Scots firm Emotional Sciences creates 'mood analyser'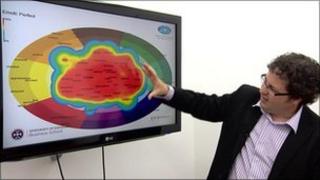 A Scottish company has developed a software programme which can work out people's mood from the things they write every day, such as e-mails, messages and even tweets.
It has already been used to analyse the emotional state of bank employees, oil workers and office workers.
The software being used by Emotional Sciences was originally developed to monitor viewers responses to TV adverts, but was adapted to analyse all kinds of text.
Managing director Eddie Cochrane said: "What we do is use technology to look at the emotions that are prevalent in organisations.
"The technology crawls over all the words that they say. It looks at the emotions but also finds out what they're emotional about."
'Best people'
One of the companies which has made use of it is Nucleus Financial, an investment company in Edinburgh.
Its chief executive David Ferguson said: "We wanted to know what staff liked about the business, what they enjoyed about working at Nucleus but also what they felt we weren't doing enough or could do more of to make it a better place to work.
"Also just to develop our policies so that we attract and retain the best people."
After analysing text written by staff, Emotional Sciences was able to produce a "weather map" of the mood of staff.
It found they were largely happy and motivated, but some longer-serving staff were unsure about their role following a rapid expansion.
Growing market
The business was supported by Scottish Enterprise, who want to encourage more companies to enter a growing market for technology which improves health and wellbeing.
Jan Reid, Scottish Enterprise's manager of technologies, said: "It's an example of a company which has been developed over the last five years and has actually grown through a recession.
"Over the next 20 years public spending on health and wellness will need to triple to keep up with demand. So the potential there for companies like Emotional Sciences is phenomenal."
As well as offices, the software has also attracted the interest of the NHS, which is investigating whether it can be used to monitor the progress of people with mental health problems.
The MoD also had talks with the company to see if the technology could be used to analyse the mood of suspected terrorists.