Ambulance staff 'wrongly blamed' for rest break policy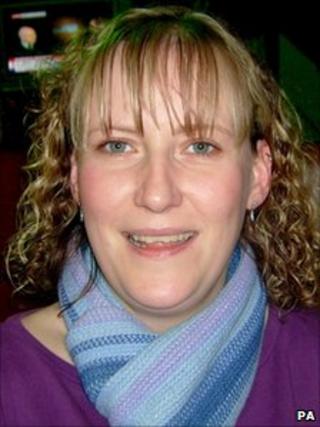 A union has said ambulance staff were being blamed by the public for a rest break policy brought to wider attention by a woman's death in October 2010.
Mandy Mathieson collapsed at her Moray home, but a technician at a nearby ambulance depot did not answer a call to go to her aid as he was on a break.
GMB Scotland said staff were unpaid and off duty during breaks and were not insured to respond to emergencies.
It has called for an inquiry into the running of the service.
The Scottish Ambulance Service (SAS) has been awaiting a formal response from unions to proposed changes to the policy.
A spokesman said: "Following discussions with our staff side, we have made a formal proposal to address the meal break issue. We look forward to their formal response."
After a meeting in Dundee, GMB shop stewards have recommended that its members reject the proposals.
The union said the current rest period policy, brought in under the SAS's Agenda for Change, was unfair and had affected staff morale.
Representatives said staff were being blamed for a policy decision they did not seek and do not agree with.
Under the present terms staff willing to be disturbed during breaks receive a £250 annual payment and a £5 one off payment.
The GMB said 80% of staff had rejected that offer.
The SAS has proposed changing the £5 fee to a one-off 45 minutes overtime payment, but the union said this was still not good enough.
Mick Conroy, senior organiser for GMB Scotland, said ambulance crews were not classed as an emergency service in the same way as the police and fire.
He said: "The fire and police are classed as emergency services therefore emergency services have different arrangements.
"They have better pay, pensions, and retirement conditions.
"These two emergency services are also paid during their meal breaks."
Blood clot
In January this year, SAS bosses said the technician who failed to respond to a 999 call to go to Ms Mathieson's aid would never work in Tomintoul again.
The 33-year-old died at her home in the village in October last year.
Although the ambulance technician did not lose his job, SAS bosses said he would not work locally.
Ms Mathieson collapsed at her home about 800 yards from the ambulance technician's depot.
However, he chose not to answer the call because he was on a meal break.
Instead, a crew based 21 minutes away in Granton-on-Spey responded.
An air ambulance was also scrambled, but Ms Mathieson died, having suffered a blood clot.
Ambulance chiefs went to Tomintoul in response to local concern about the issue and to express their regret at Ms Mathieson's death.