Scottish hospital infection rates continue to fall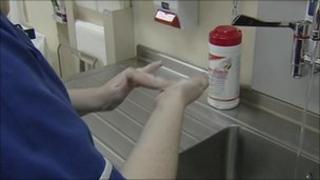 Rates of infection from MRSA and C. difficile in Scottish hospitals have continued to fall.
Official data for January to March 2011 showed a 17% drop in cases in over 65s since the last quarter, as well as a small drop for patients aged 15-64.
There were 69 new cases of MRSA, 13 less than the previous quarter.
The latest figures mean Scotland has exceeded the challenge to half C. diff rates within two years, by delivering a 71% decrease.
Health Secretary Nicola Sturgeon said the target was set in March 2010 after good progress was made on the initial 30% target.
She said: "Today's figures clearly show that our strenuous efforts and zero tolerance approach to superbugs are reaping significant rewards.
"NHS Boards have not only met the extra C. diff target I set - they have outdone it.
"I would like to congratulate them on all their hard work."
'Slow implementation'
She said rates should continue to fall.
"Maintaining this progress will be challenging but it is essential that we do just that," she said.
"Patients need to have confidence that they will receive top quality care in our NHS."
Labour's health spokesman Richard Simpson said the reduction in superbugs was testament to the hard work of NHS staff, but added that Nicola Sturgeon should "stop patting herself on the back".
"Hundreds of Scots are continuing to contract superbugs and too many people are still dying," he said.
"One life lost, is one too many."
He claimed the reductions could have happened much earlier if mandatory inspections and targets had been implemented more quickly.