The Who's Roger Daltrey attacks festivals on TV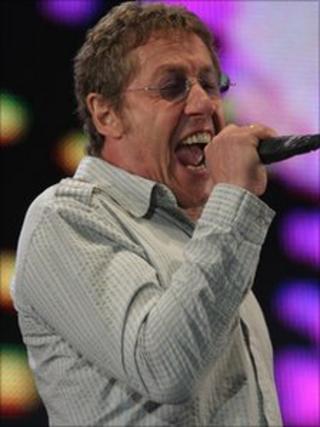 The Who's lead singer Roger Daltrey has criticised rock festivals and hit out at the current environment for budding young musicians and rock bands.
He was speaking to BBC Radio Scotland's Good Morning Scotland programme ahead of performing rock opera Tommy at the Clyde Auditorium later this week.
Scotland's biggest music festival T in the Park takes place at Balado in Perthshire this weekend.
But Daltrey said most of the TV coverage of events such as T in Park makes him "want to puke."
He said the fact that many performances at big summer festivals were televised was doing the music industry a "disservice" and taking away a lot of the "mystery" which surround musical icons.
"I think you have to go out and experience it," he said.
"I don't think music works particularly well on TV, especially rock music.
"Most of the festival stuff makes me want to puke. It's wall-to-wall stuff and they (the artists) get very little money from it.
"Most of the mystique is taken away."
Daltrey said it was much harder for bands now than it was in the 60s.
"It is so hard to make a living on the road now," he said.
"I think the record industry has been decimated by free downloading and touring is becoming incredibly expensive."
He was also scathing about TV talent shows saying "reality TV shows wouldn't know X factor if it hit them between the eyes".
"They do pick very good singers but I don't think they really understand what a great singer is," he added.
"My criticism of those shows is that they generally pick good singers, but they are all backing singers and you would not know one from the other."
Daltrey and his new band are currently touring the UK with The Who's rock opera Tommy, which as well as being a landmark album has also been made into a film and a broadway musical.
He said: "I like Tommy performed as a piece of music, almost like a symphony, like an opera.
"I think part of Tommy's success was that people would put it on from beginning to end and within that music they would find a part of themselves that identified with the emotions being lived through on the record."