Scottish builders call for VAT cut on home improvements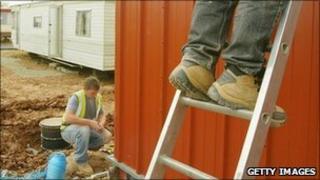 VAT should be slashed on home building projects to support the construction sector, builders have claimed.
The call followed an industry survey which said two in five firms thought a targeted VAT cut would be the most effective way of boosting the industry.
The Scottish Construction Monitor said these companies wanted the Scottish government to apply pressure on Westminster to cut tax from 20% to 5%.
This would save consumers 15p in every pound spent on building work, it said.
Other benefits outlined in the report included supporting apprentices and driving "cash-in-hand rogue traders" out of the industry by eroding their competitive advantage.
Long-standing issue
The Scottish Building Federation (SBF), which carried out the survey of its members, said improved bank lending was the second most popular policy to support the industry, with 16.7% of respondents supporting this measure.
Increased public investment in house building was the third most popular at 14.8%.
Cutting VAT on home building improvements has been a long-standing campaign issue for the industry.
SBF chief executive Michael Levack said: "This new survey demonstrates once again how strongly our members feel about the issue - and how much they believe it would benefit consumers and the industry if a targeted VAT cut were implemented.
"The issue of bank lending and a general lack of affordable credit also continues to weigh heavily on the minds of many."
He called on politicians at all levels of government to exert more pressure on the banks to ease lending and be more supportive of building firms.
A total of 64 Scottish construction firms, among 700 members of the Scottish Building Federation, completed the survey between the June 10 and June 24.
The survey found the latest confidence rating in the industry rising by 16 points from -22 last quarter to -6.
However, 70% of those completing the survey described themselves as "less confident" or as neither more nor less confident about the prospects for their business over the next 12 months compared to the past year.
The Scottish Building Federation said this suggested the prospects for sustainable long-term recovery in the industry remained "extremely fragile".