Battle for Inverclyde nears end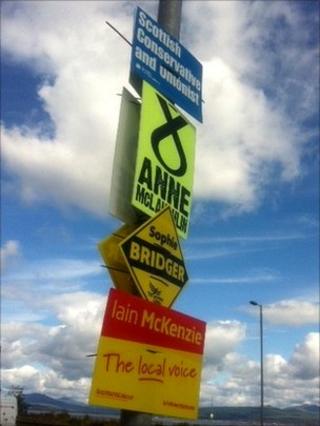 History records Greenock's first reaction to modern democracy as "lukewarm".
That was 1833, following the Great Reform Act, which gave the upper middle classes the vote.
Historian R.M. Smith quotes the local paper saying of a council contest: "A number of most excellent and a few questionable men have been nominated, and we hope the electors have enough good sense to discriminate between them, but, if they do not, they will be the first to suffer from their folly."
On Thursday, Greenock's citizens (all of those over 18 this time), including those of Port Glasgow, Kilmacolm, Gourock, Inverkip and Wemyss Bay, get to follow in the steps of their forefathers.
Inverclyde needs a new MP following the death, last month, of Labour's David Cairns, who held the seat with a majority of more than 14,000 votes.
If voters follow the pattern of the last seven decades, then Labour will win this seat once again.
But the recent Holyrood election proved Labour strongholds aren't as strong as they used to be.
The Scottish National Party hopes the momentum which delivered it a majority of MSPs last month will deliver the party a seventh MP too.
And, to a large extent, this Westminster by-election is being fought in the shadow of that Scottish Parliament result.
The Liberal Democrats, once strong in parts of the constituency, barely held their deposit, and humiliation left them struggling to find a local member willing to stand.
For them, this contest is not about winning, but reminding voters the party hasn't gone away.
The Conservatives were fourth last time this seat was fought. They are hopeful of doing much better this time - predicting second place.
That boldness is based on the unpopularity of the Lib Dems and the habit Scottish voters have of voting one way for Holyrood and another for Westminster.
The Tories are betting they'll do better than the SNP when it comes to sending a representative to London rather than Edinburgh.
The fifth party standing is the UK Independence party.
The party believes getting its first ever UKIP MP elected would send shock waves throughout British politics. They'd be correct.
But, in their less ambitious moments, the party concedes it will be glad if it beats the Liberal Democrats.
The people with the biggest stake in this election are the voters of Inverclyde.
Jobs focus
A local council report warns: "The future viability of the area is potentially in jeopardy."
This is based on Inverclyde experiencing one of the steepest declines in population of any mainland authority.
In essence, the young and better qualified are leaving.
Behind them is a rapidly ageing population with one-in-three households expected to contain at least one pensioner by 2015.
The Inverclyde council report goes on: "Additionally, concentration of multiple deprivation will occur, as the communities who are the worst off are the ones who will not be able to leave the area or improve their circumstances without significant investment."
With that kind of economic profile it is unsurprising that - employment or lack of it - has dominated the by-election campaign.
There are 31 people on job seekers allowance in the constituency for every one job centre vacancy.
A particular problem is joblessness amongst young people and all candidates have promised to make this a top priority.
The challenge is clear, as 21-year-old David Bell from Port Glasgow told me.
"In this area there is no point in even looking for a job - there isn't any," he said, adding: "There's not much in this town for young people.
"You either go out, take drugs or drink. That's pretty much this whole area."
The SNP has promised to re-industrialise Inverclyde by bringing renewable energy jobs to the riverside.
Green energy jobs are also a focus of the Liberal Democrats, while the Conservatives talk of regeneration and promoting small businesses.
Labour has pledged to campaign for more apprenticeships too as well as continuing their local future jobs fund.
Polls open on Thursday 30 June, at 0700 BST.