Supreme Court judge Lord Rodger of Earlsferry dies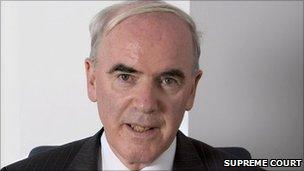 The Supreme Court judge and former Lord Advocate, Lord Rodger of Earlsferry, has died aged 66 after a short illness.
The Crown Office confirmed Lord Rodger's death on Sunday, and said the legal profession was "poorer for his passing".
He spent three years as Scotland's top law officer and was one of the original 12 members of the UK Supreme Court.
First Minister Alex Salmond said Lord Rodger had made an "outstanding contribution" to Scottish public life.
The current Lord Advocate, Frank Mulholland, issued a joint statement with two previous holders of the role, Dame Elish Angiolini and Lord Boyd of Duncansby.
They said: "It is with great sadness that we have learnt of Alan Rodger's death.
"Those of us who have had the privilege of working with or appearing before him held him in the highest regard.
"His sharp intellect allied to his humanity and humility made him one of the great Lord Advocates and Lord Presidents."
Lord Phillips, president of the Supreme Court, said: "I am deeply distressed to learn of the death of Alan Rodger.
"For 10 years he has been a mainstay of the Law Lords and of the Supreme Court. He was an outstanding jurist and a wonderful companion. His premature death is a tragic loss to the court and to the nation."
Lord Hope, deputy president of the Supreme Court, said: "Lord Rodger's premature death has deprived us all of a greatly valued colleague and a much-loved friend. It is a desperately sad end to a brilliant career."
Lord Hamilton, Lord President and Lord Justice General of Scotland, said: "Alan Rodger was a very distinguished Scottish judge. His judgments, whether on civil or on criminal matters, were always incisive.
"Although his incisiveness as a judge could make him difficult to appear before, he was an amiable social companion with a dry sense of humour."
'Outstanding contribution'
Mr Salmond said: "Lord Rodger made an outstanding contribution to public life in Scotland over many years both as a judge and as Lord Advocate.
"He was held in the highest regard by all those who worked with him in public service, and dedicated himself to the interests of justice during a long and hugely influential career."
The son of a University of Glasgow professor, Alan Rodger joined the Scottish Bar in 1974 having studied at Glasgow and Oxford.
Made a life peer in 1992, he became Lord Advocate the same year, holding the position until 1995.
Lord Rodger was appointed a Court of Session judge in 1995 and was Lord President of the Court of Session and Lord Justice General of Scotland from 1996 to 2001.
In 2009, he was one of two Scottish judges appointed to the newly formed UK Supreme Court.
Related Internet Links
The BBC is not responsible for the content of external sites.