Bursary for children of killed armed services personnel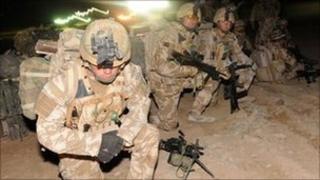 First Minister Alex Salmond has confirmed the setting up of a bursary scheme for the children of servicemen and women killed in the line of duty.
The funding is designed to help support their education and mirrors a scheme already announced by the UK government for students in England and Wales.
The bursaries will be worth between £1,500 and £8,240 a year per person.
It is hoped the financial support will help children fulfil their potential at college or university.
Speaking ahead of the Armed Forces Day celebrations in Edinburgh, Mr Salmond said: "The people of Scotland are proud of our brave servicemen and women, and Armed Forces Day is a welcome chance for all of us to celebrate their contribution and honour those who have fallen.
"It is only right that, as a society, we return their commitment and dedication to duty by supporting them and their families in every possible way.
"That is why we are offering education bursaries to the sons and daughters of military men and women killed in service.
"This money will help those young men and women whose parents make the ultimate sacrifice in the line of duty to go to university or college.
"This is an extra level of support for military families, demonstrating Scotland's continuing commitment to our armed forces, veterans and military families."
Mr Salmond added that the government had already taken steps to give extra help to veterans, such as setting up the Scottish veterans fund and introducing concessionary bus travel for injured service personnel.