Lord Advocate Frank Mulholland clarifies sectarian laws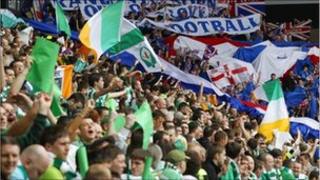 Scotland's top prosecutor has moved to clarify the singing of the national anthem at football games, under new laws to tackle sectarian hatred.
Frank Mulholland said the move would not be seen as illegal without an "aggravating" factor.
Community Safety Minister Roseanna Cunningham previously said each case depended on individual circumstances.
MSPs are poised to pass the new emergency laws to increase jail terms for sectarian-related behaviour.
The lord advocate's comments came on the day that two Christian organisations decided to take legal action to try to force the Scottish government to take more time over the legislation.
The Christian Institute and Care for Scotland expressed concerned that the bill would curtail ordinary religious debate, and are hoping the courts will rule the legislation is unlawful.
The Offensive Behaviour at Football and Threatening Communications Bill is expected to be passed ahead of the new football season in July, despite only being introduced to parliament last week.
The bill - which faces its first vote in parliament on Thursday - aims to stamp out abusive behaviour from football fans whether they are watching matches in a stadium, in the pub or commenting online.
It would raise the maximum jail term from six months to five years.
Ms Cunningham previously told Holyrood's justice committee that singing Flower of Scotland or God Save the Queen would not be considered offensive behaviour under the legislation.
However, she said each case would depend on individual circumstances and cited an example of having seen Celtic fans making signs of the cross to Rangers fans in an "aggressive" manner, which may potentially be construed as offensive.
The lord advocate told the committee that guidance on the legislation had been drawn up for the police.
He said: "The guidance makes it clear that the offence - that's the offensive behaviour - is not intended to cover, will not cover, peaceful preaching or restricting freedom of speech including the right to criticise or comment on religion or non-religious beliefs even in harsh or derogatory terms.
"It's not intended to cover criminalised jokes or satire about religion or non-religious beliefs, it's not intended to criminalise the singing of national anthems in the absence of any other aggravating behaviour.
"And its not intended to criminalise the making of religious gestures while singing national anthems in the absence of any aggravating behaviour."
In a separate statement, the Scottish government said it did not regard the legal challenge from the Christian groups as being valid.
The new legislation comes in the wake of several high-profile football-related incidents.
These include trouble at Rangers/Celtic games and the sending of suspected bombs to Celtic manager Neil Lennon and two other high-profile supporters of the club.