Digital switchover in Scotland almost complete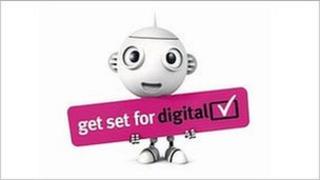 Scotland is in the last stages of completing the switch to digital television.
The last analogue TV signals were turned off at the main Black Hill transmitter in North Lanarkshire, and local relay transmitters in the central belt, at about midnight.
The Freeview signal is also being boosted.
By Wednesday afternoon the main Freeview channels will be as readily available as analogue TV used to be.
Digital television began in 1998 and the switchover has been taking place region by region over the past two and a half years.
The process will be completed on Wednesday afternoon when digital broadcasts begin at a local relay transmitter near Lanark.
The switchover will be witnessed by two Scottish broadcasting legends - Mary Marquis, the original presenter of BBC Reporting Scotland, and Glen Michael who hosted STV's Cartoon Cavalcade for 26 years.
The switchover process has gone smoothly, although some reservations were expressed initially.
The Scottish Borders saw the first widespread switchover in the UK.
When it began, some there believed the area was being used as a guinea pig while others were disappointed that some of the commercial Freeview channels were not being broadcast from relay transmitters.
But the success of the switchover - along with the help available to elderly and disabled viewers - meant that there has been little, if any, resistance or criticism from viewers in other parts of the country.
Relay transmitters - which cover local reception blackspots including substantial chunks of the Highlands and Islands - only broadcast the BBC's Freeview channels and a limited range of additional commercial channels.
But the launch of Freesat - a way of receiving satellite television without paying a subscription - helped to allay concerns that rural areas were losing out.
By the time the switchover process began in the central belt last month, more than 95% of viewers had a digital service on their main set.
However, many sets in bedrooms and kitchens were not converted.
Freeview viewers affected by this last switch will need to rescan their boxes. Advice is available on Digital UK's website or by ringing 08456 505050.
A help scheme for some disabled viewers and those aged over 75 is still taking applications for assistance. It can be contacted by phoning 0800 4085900.
Digital switchover has already been completed in Wales and some English regions. The process will end completely next year.