Ceefax ends as Scotland goes digital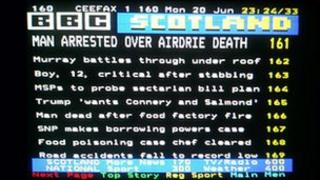 Analogue television in Scotland is finally being switched off later and it is also the last day of the Ceefax service north of the border.
The analogue signal will be turned off at the main Black Hill transmitter and local relay transmitters in Central Scotland just after midnight.
Analogue TV in Scotland has been turned off area by area over the past two and a half years.
But Freeview digital coverage has been extended to reach virtually every home.
Up-to-date World, UK and Scottish news will continue to be available on the replacement for Ceefax - the Red Button text service which is available on all BBC digital channels.
The Ceefax teletext service was developed by BBC engineers in the 1970s to take advantage of spare lines at the very top of the analogue TV picture.
In the 1980s, its popularity grew as TV sets able to decode teletext came down in price.
Meanwhile rolling Ceefax pages became a common sight on BBC Television as they were used to fill what were often substantial gaps between daytime programmes.
Ceefax, which is the brand name for the BBC's service and not a general term for teletext, will end completely next year once the digital switchover process has been completed in other parts of the UK.
It has outlived both its major UK rivals.
Around the same time as Ceefax began, a similar service - Oracle - was launched on ITV.
It lost its licence to broadcast in the early 1990s, along with other famous names like Thames Television, when the ITV franchises were put up for auction.
Oracle's replacement - actually branded as Teletext - closed last year as it was considered to be no longer economically viable.