Government claims support claimed for police reform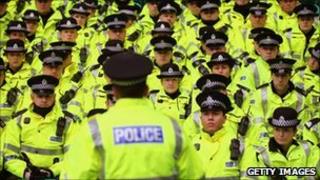 The Scottish government claims to have won key support for reform of the police and fire services, despite concerns over some of the proposals.
Ministers floated the idea of single national forces instead of the current eight, as a way to save money without hitting frontline operations.
The plans won backing from some senior police officers and the Fire Brigades Union during a consultation exercise.
Others said the move was simply a way to save cash.
Ministers have yet to set out their preferred option.
Justice Secretary Kenny MacAskill, who was discussing the reforms with Scottish Policing Board, pledged to look into the concerns.
But he said the 219 consultation responses, published by the Scottish government, showed "wide agreement" on the need to reform vital services in the face of the public spending squeeze.
"I am committed to delivering modern, effective and sustainable police and fire and rescue services in Scotland, keeping officers and fire-fighters in the community," he said.
"But maintaining our excellent services in the face of Westminster budget cuts will not be possible without changing the way we do things, and the consultation responses show broad agreement on the need for reform.
"While the status quo is not a realistic option, the responses highlight areas of concern that must be addressed before we decide on the best way forward."
The government said support for the two national services had come from the Association of Scottish Police Superintendents, Serious Crime and Drug Enforcement Agency and others.
But council body Cosla accused ministers of trying to create a "fictional consensus" in support of a single police force, while Solace, which represents local authority chief executives said it was "concerned that the proposals have no apparent rationale beyond achieving savings and have excluded consideration of wider options".
The Scottish government, which appears to be leaning towards a single Scottish police force - a move backed by Labour and the Conservatives - is expected to outline its position at Holyrood after the summer break.