Scotland Bill passed by MPs in House of Commons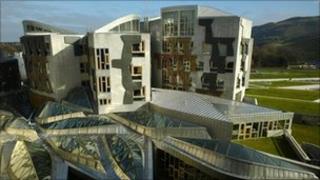 Legislation to boost the powers of the Scottish Parliament has been passed by MPs in the House of Commons.
The UK government has said the Scotland Bill will give Holyrood ministers £12bn of financial powers.
The bill will be sent to the House of Lords for approval after being given an unopposed third reading in the Commons.
The legislation has been described as the largest single transfer of fiscal power from Westminster in the history of the United Kingdom.
But the Scottish government has said the bill does not go far enough and called for further responsibility to be devolved.
'Radical step'
Under the legislation, Holyrood will get more powers including the ability to set rates of income tax and control over drink-drive, speeding and airgun legislation.
Scottish Secretary Michael Moore told the Commons: "It is a radical but responsible step. The bill is not just about transferring power for power's sake, it is about creating accountability.
"By taking on responsibility for raising the taxes required to fund the decisions they take, the Scottish Parliament and Scottish ministers will be more accountable and will be better equipped to respond to Scotland's needs within the United Kingdom."
However, SNP spokesman Pete Wishart said the bill "falls way short of the ambitions of the Scottish people".
"In the next few years we will have a proper referendum about the future of Scotland, a proper constitutional referendum that will be about independence," he said.
"I am absolutely certain, I am sure, the Scottish people will make the right choice and Scotland will once again join the nations of the world."
Borrowing powers
Shadow Scottish secretary Ann McKechin said: "Tonight has been an important debate on where we see Scotland in the future... that debate will continue over the weeks and months to come.
"I want to make sure that debate is in the context of hard, reasoned evidence which the Scots demand of us and is one that is clearly shown to be for their benefit."
Liberal Democrat Alan Reid (Argyll and Bute) said the bill was a "substantial event in the process of devolution".
Since the SNP's election victory in May, which gave them an overall majority, UK ministers have brought forward amendments to the bill to accelerate new borrowing powers to the Scottish Parliament.
But the Scottish government said greater tax and borrowing powers must be devolved, to give Scotland the economic levers it needs to boost recovery and growth.