SNP government makes borrowing powers case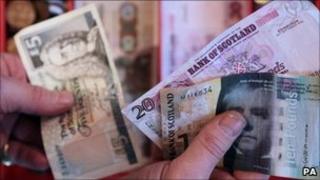 The Scottish government has presented its proposals on increased borrowing powers to the UK Treasury.
Finance Secretary John Swinney said UK plans to devolve borrowing powers worth £2.2bn did not go far enough.
He has argued for at least £5bn, taking into account predictions about future spending and interest rates.
Mr Swinney held discussions with the chief Secretary to the Treasury, Danny Alexander, in London, ahead of a meeting of the British Irish Council.
The meeting, involving the heads of the Scottish, Irish, Northern Irish and Welsh governments was the first since the devolved elections.
The council, which also involves representatives of the Isle of Man, Jersey and Guernsey, focused on energy and the economy.
Economic recovery
Meanwhile, Mr Swinney said it was vital that measures were taken to boost the Scottish economy.
"It's very important that there is a clear understanding of the need to support investment in the economy, to encourage economic recovery in Scotland," he said.
"I've set out many of these propositions to the chief secretary and will continue those discussions to ensure we can maximise the effectiveness of public expenditure to support the creation of new jobs in Scotland."
The UK government has proposed a series of new financial and other powers for Scotland, under the Scotland Bill, currently going through Westminster.
UK ministers say the Scottish government must bring forward evidence to support devolution of further enhanced powers.