Artur Boruc 'elaborate sting' fooled News of the World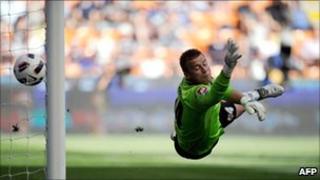 The News of the World fell for an "elaborate sting" over allegations of explicit texts about Artur Boruc, a judge has been told.
The former Celtic goalkeeper had raised a defamation action at the Court of Session in Edinburgh over the Sunday tabloid's story last July.
But judge Lord Woolman was told that the case had been settled.
The paper's publisher has made a full apology and agreed to pay Mr Boruc £70,000.
The footballer, who now plays for Italian side Fiorentina, had been wrongly accused of sending a series of explicit messages and a sexual image to a woman while his girlfriend Sara Manei was pregnant.
After lawyers for Boruc and News Group Newspapers agreed the settlement the case was called to consider legal expenses.
Tissue of lies
Roddy Dunlop QC, for News Group, said they thought they had good reason - at the time - to carry the story but had been "victim of a highly complex deceit by one man".
Mr Dunlop said: "The defenders accept that they were entirely taken in by this fraud but they were not reckless or irresponsible in the beliefs that they held.
"It was only when the phone details began to emerge that the tissue of lies was revealed."
During the hearing the judge was told how it appeared that a photo of a man's torso had been "photo-shopped" to add a distinctive monkey tattoo to the navel. Mr Boruc was known to have such a tattoo.
The hoaxers had also set up a fake Facebook page and added bogus comments from Mr Boruc's girlfriend which appeared to back up the allegations.
Mobile phone records
A man posing as Mr Boruc's financial adviser had contacted News of the World executives to discuss the newspaper being granted an exclusive interview with the footballer if they would make the story "go away".
But the scam unravelled when mobile phone records showed calls had been made from a Glasgow hotel at a time when Mr Boruc had a perfect alibi - he was on holiday in Sardinia.
Graeme Henderson, for Mr Boruc, said the allegation of sending the explicit messages had been extremely upsetting.
He said footballers "outed" for misbehaviour faced being pilloried by rival fans.