Lottery fund to create community spaces across Scotland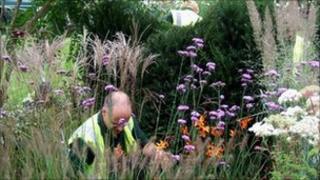 Lottery funding of £9m is set to create community spaces across Scotland.
The new Community Spaces Scotland scheme from the Big Lottery Fund is set to rejuvenate about 90 local areas from Dumfries to Dingwall.
It will be used to develop allotments, parks and community gardens and to improve village halls.
Jackie Killeen, Big Lottery Fund Scotland director, said: "We want to bring communities together to bring these areas back to life."
Speaking at the launch of Community Space Scotland, in Loanhead, Midlothian, Ms Killeen said: "We all know of those outdoor and indoor spaces in the heart of our local areas that with some care and attention could make our communities better places to live.
"This could involve turning an existing green space into a community allotment, bringing a derelict play park back to its former glory, refurbishing a village hall or even establishing a green gym, a physical space to get people more active.
"We want this investment to help create the ties which bind local people together to be healthier and happier whilst also improving those community spaces that matter to them."
Groups can apply for grants between £10,000 and £250,000, although the average grant size is expected to be about £100,000.
The money will go to places where it is thought it will make the biggest difference, from large urban areas to small towns and remote rural areas.
Infrastructure Secretary Alex Neil said: "This new fund will help get many worthwhile projects off the ground in communities which need it most, which is great news for local people.
"The Scottish government has invested £200,000 in this new centre in Loanhead and we will continue to support regeneration projects, big and small, that improve our communities and bring a benefit to people's lives.
"This is a fantastic example of government and the third sector working together to make the most of our resources and help local people make the changes that matter most to them."
Groups can check if they are eligible to apply by entering the postcode of their project base on the Big Lottery Fund website.