Argyll and Bute rural school closure plan shelved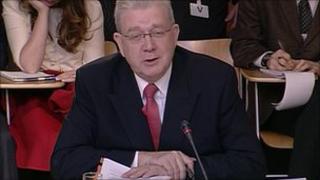 Plans to close nine rural primary schools in Argyll and Bute have been shelved, pending a government review.
The decision by the area's local authority came after ministers asked councils to delay any plans to shut rural schools for a year.
Education Secretary Mike Russell asked for the moratorium while legislation on closures is looked at again.
Argyll and Bute Council met to consider whether it should still push ahead with its closure plans.
But, at a meeting of the local authority, councillors voted to stop all current consultations, except for the two which involve schools with no pupils in them, until a commission set up by Mr Russell has looked into the issue.
The council has said its situation, which has primary school capacity for 11,500 pupils, but a roll of only 6,000, was "unsustainable".
Local parents welcomed its decision.
Fiona Philips, from the Argyll Rural Schools Network, told BBC Scotland: "What we have now is a chance for these communities, for these schools and these children to get a break from nine months of campaigning to keep their schools open, justifying why we need rural schools in Scotland.
"It gives us the opportunity now to address how the whole education provision is done throughout rural areas."
Council body Cosla has opposed the request for a moratorium - which would be in place until after next year's council elections - although decisions on closures are a matter for individual local authorities.
Mr Russell's request came after he said legislation on rural school closures was not working properly and had been "more difficult" than thought.
Argyll and Bute and Western Isles councils have both said ministers must provide extra funding if cash-strapped local authorities are to keep all their schools open.
But Mr Russell, who is the MSP for Argyll and Bute, insisted his move was not about money, adding that it was important for local authorities to have "a dialogue" with government over school closures.
"This is about how we develop and sustain our rural communities and the link of education to those rural communities," he said.
"That's a vitally important thing because once you shut one of these schools it is very hard to reopen them. It does not happen.
"I think we owe it to these communities to be as careful as possible and to be as positive as possible in working together."
'Flawed' legislation
Argyll and Bute Council leader Dick Walsh said the decision to stop the council's consultation process did not alter the problem of "considerable surplus capacity in our primary schools".
But he said: "It is not appropriate for the council to continue working under legislation which the education secretary himself believes to be flawed and not fit for purpose.
"We will work with Cosla to explore the wider implications of a moratorium and the impact it will have on education across Argyll and Bute.
"Our priority remains to provide all children in Argyll and Bute with a high standard of education. We welcome the news that the education secretary will examine the links between rural schools and the support and development of vibrant rural communities."
A Scottish government spokesman said: "The decision by Argyll and Bute Council to halt their consultation process is a win-win scenario for parents and the council, and we welcome the sensible approach that has been taken.
"It is entirely right that we stop and look at the issue Scotland-wide.
"We want to be fully engaged with Cosla, individual authorities and communities to make sure we are getting it absolutely right for school pupils in rural areas through the commission on the delivery of rural education.
"Cosla have a key role to play in this and we look forward to an early discussion with them."