Cosla opposes rural school closure moratorium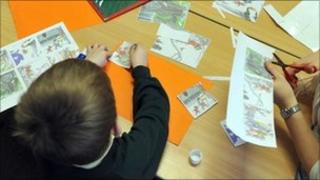 The body representing Scotland's 32 councils has rejected a government call to delay for a year plans to shut rural schools.
Cosla said no case had been made for the moratorium, requested by Education Secretary Mike Russell, pending a review of current legislation.
School closures are a matter for individual local authorities.
However, Cosla's stance could increase the chance that some councils will try to press on with their plans.
Argyll and Bute Council - the region where Mr Russell is the MSP - is deciding on Tuesday how to respond to the moratorium request.
The local authority is proposing to shut 11 primary schools.
Mr Russell's request came after he said legislation on rural school closures was not working properly and had been "more difficult" than thought.
He has set up a rural education commission to investigate the issue and asked local authorities to agree to a moratorium on closures until June 2012.
The Scottish government said it could force councils to comply, if necessary.
Argyll and Bute and Western Isles councils have both said ministers must provide extra funding if cash-strapped local authorities are to keep all their schools open.
Cosla president Pat Watters said there was a clear view that no case had been made for a moratorium, and questioned plans for the rural education commission, saying local government had to be more than a participant in the process.
The government commission will look at the Schools Consultation Act, passed in the last parliament, and investigate a "clear legislative presumption" against rural school closures.
A Scottish government spokesman said "potential school closures are a source of great anxiety to parents, teachers, pupils" and it was "absolutely clear that something needed to be done".
"The Commission on the Delivery of Rural Education will consider all the issues surrounding rural education, and a moratorium on proposals for the next 12 months will ensure it can work effectively and fairly," he said.
"The Scottish government's proposals were welcomed by all sides of the Scottish Parliament during the discussion of the cabinet secretary's statement last week.
"He also made it clear at that time that the government wants to work with Cosla and others on this issue, and to move forward in a spirit of partnership. That remains his intention."
'Listen and respond'
However, Liberal Democrat education spokesman Liam McArthur said: "There was absolutely no prior consultation on this proposed moratorium.
"Even 10 days on and after a statement to Parliament, there is still little detail on how it would work in practice and what the implications are for education and other council services."
He added: "Mr Russell must listen and respond."
Scottish Conservative education spokeswoman Liz Smith said: "We have said quite clearly that there is a strong case for a moratorium, given the extent of concern about the legislative loopholes and guidance which goes with that legislation."
But she added that there was "no need for it to last a year since legislation and guidance could be amended by the autumn".