Teachers protest over pay and cuts at EIS conference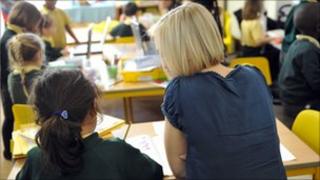 Members of Scotland's largest teaching union have staged a protest outside its annual meeting.
The demonstration over pay and conditions was held as delegates arrived for the final day of the EIS conference in Perth.
Some members are angry at the union's recommendation to accept a deal proposed by council umbrella body Cosla and the Scottish government.
It would impose a pay freeze and a package of cuts worth about £45m.
The deal was endorsed by the EIS in a ballot, however other teaching unions such as the Scottish Secondary Teachers' Association and the NASUWT opposed it.
Teachers made their views known as EIS officials arrived at Perth Concert Hall.
They were greeted with chants of "EIS, EIS, could you have done any less" and calls of "sell-outs".
'Massive attack'
Andrew Fullwood, a teacher from South Lanarkshire, EIS representative and organiser of the protest, said: "Some of these protesters are delegates at conference, some have come from as far away as north of Inverness because they feel so strongly about what the EIS has done by accepting the deal.
"Unfortunately we tried in the conference to undo what they had done on Thursday night and we lost 164 to 141 votes, so we narrowly lost.
"These people have come today because it is, for most, the only opportunity to get their feelings across to the officials of the EIS who voted for this and who did the deal."
Mr Fullwood added: "This is a massive attack on our pay and conditions.
"In all the years that I have been coming to EIS conference, for over 10 years, this is the first time that ordinary members have come and protested outside."
On Friday, members voted to back industrial action short of a strike to protect their working conditions.
They also voted to ballot on a boycott of some development work on the new Curriculum for Excellence.