Cairn Energy wins injunction against Greenpeace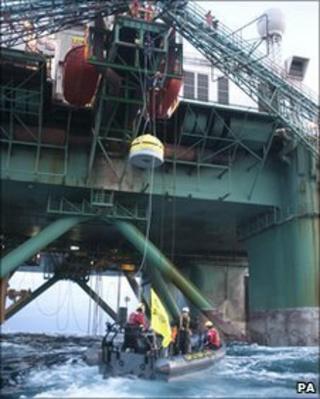 Cairn Energy has won an injunction preventing environmental protesters from disrupting its drilling operations off the coast of Greenland.
A Dutch court granted the injunction against Greenpeace International following a recent series of protests by activists.
Greenpeace faces a penalty of 50,000 euros (£44,370) a day, up to a maximum of 1m euros, if it fails to comply.
Edinburgh-based Cairn argued it had brought the case for safety reasons.
But Greenpeace said it would continue its campaign "to kick the oil companies out of the Arctic".
In a statement, Cairn Energy said: "Cairn respects the rights of individuals and organisations to express their views in a safe and peaceful manner but cannot allow any action that poses a potential threat to the safety of our employees or the protesters involved."
Cairn through its subsidiary, Capricorn, operates 11 blocks off Greenland and plans to drill up to four wells off Greenland in summer 2011.
Protesters trying to delay drilling operations, which must take place during the region's short summer, have twice boarded a drilling vessel being used by Cairn in recent weeks.
Last week, work was suspended for 12 hours after 18 Greenpeace protesters breached a restricted area on the Leiv Eiriksson rig off the coast of Greenland.
They hung from the underside of the rig in an Arctic survival pod and were removed by Danish police.
It followed an earlier incident, when two Greenpeace protesters occupied the 53,000-tonne drilling vessel, operated on behalf of Cairn Energy.
Activists have stepped up their action in the wake of the Gulf of Mexico oil spill, which sparked concerns over the difficulties of tackling offshore incidents.
In confirming the Dutch court ruling, Greenpeace said it would continue to campaign to get Cairn Energy to say how it would deal with any oil spill in the Arctic.
Greenpeace associate Ben Stewart said: "This ruling won't stop us demanding Cairn Energy's missing oil spill clean-up plan.
"They can hire all the lawyers in the world, but they won't stop our campaign to kick the oil companies out of the Arctic."
Greenpeace declined to comment on whether its activists would attempt to board Cairn vessels again.
Cairn filed the lawsuit in the Dutch courts because two of Greenpeace's ships - the MS Esperanza and the MS Arctic Sunrise - and the Greenpeace non-profit foundation itself, are all registered in the Netherlands.