Scottish police officer numbers show slight rise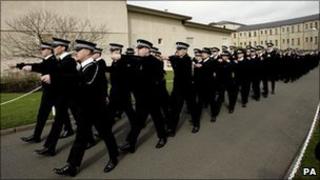 The number of police officers in Scotland has risen slightly.
At the end of March 2011 there were 17,263 officers - 46 up from the previous three months.
But the figure is down on a year ago, at the end of March 2010.
Scottish Justice Secretary Kenny MacAskill said the figures showed the government was meeting its pledge to maintain the extra 1,000 police officers appointed during the lifetime of the last parliament.
But he warned reform of the service was still necessary to enable money and resources to be allocated to areas of policing which really matter to the people of Scotland.
The figures are published in a Scottish government statistical bulletin .
Reform
The government said the increase reflected the healthy intake at the Scottish Police College, Tulliallan, since the start of the year.
Mr MacAskill welcomed the figures, but warned it would be difficult to maintain the additional police numbers in local communities unless the service was reformed.
'Status quo'
He said: "This will allow us to more effectively allocate the available money and resources to areas of policing that really matter to the people of Scotland.
"No decisions have been taken, but it is clear that the status quo is not an option if we want to build on the achievements of the past four years.
"Changing the way we do things is absolutely necessary to ensure the coming budget cuts do not hamper the ability of our police to work where they are really needed - in our communities, fighting crime."
Strathclyde Police remains the largest force, with 8,290 officers, but that is 101 fewer than a year ago.
Dumfries and Galloway, the smallest constabulary, has 503 officers, the same as three months ago, but five fewer than in March, 2010.