Michael Moore: 'Independence needs two referendums'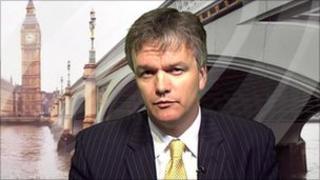 A second vote would need to be held if the SNP won its referendum on Scottish independence, according to Lib Dem Scottish Secretary Michael Moore.
Mr Moore said he thought the Scottish government would hold an "advisory referendum".
This would be followed by a second referendum on what had been sorted out between the governments, Mr Moore said.
But his words were dismissed as "nonsense" by SNP first minister Alex Salmond who wants a single referendum.
Mr Salmond - who backs independence - intends to hold a Scotland-wide vote in the second half of his five-year term.
'Sorted out'
Despite winning Scotland's first majority adminstration in May's Scottish Parliament elections, the SNP government does not have the power to declare an independent country on its own.
It would need to hold talks with the UK government at Westminster to work out an agreed position.
Mr Salmond believes such a proposition could be put to Scottish voters in a single referendum.
But Mr Moore argues that the voters would have to take part in an "advisory referendum" first, which would give the Scottish government the authority to negotiate a settlement with the UK government.
He argued that this settlement deal would also need to be put to the Scottish people in a referendum before the UK government could approve it.
Mr Moore told BBC Scotland: "In terms of constitutional law at present, a binding referendum would be for the UK government to determine.
"But there is scope for an advisory referendum within the existing rules and regulations.
"We are looking very carefully at that.
"We are looking to have a discussion with the Scottish government at the appropriate moment when they bring forward their proposals, which they, of course, have not."
He added: "If we have an advisory referendum set up by the Scottish government I think there is a strong likelihood, and it is certainly my personal view, that you would need a second referendum on the formalities of agreeing what has been sorted out between the governments."
Mr Moore also said he would not be including any of the powers demanded by Mr Salmond in the new Scotland Bill.
'Respect agenda'
Mr Salmond will fight that out when he meets Prime Minister David Cameron and Deputy Prime Minister Nick Clegg this week.
A spokesman for Mr Salmond said: "Michael Moore doesn't make the decisions, the prime minister and the chancellor make them - and the UK government is meant to be pursuing a 'respect agenda' towards Scotland, where the mandate from the people is overwhelming.
"Westminster needs to concentrate on delivering the powers the people of Scotland overwhelmingly voted for."
He added: "Acknowledged experts have made the democratic position clear, and the people of Scotland have the right to choose independence on the basis of one referendum agreed by the Scottish Parliament, on a published proposal, which is then implemented - exactly as was done for devolution in 1997.
"When Tory backbencher Bill Walker put forward a two-referendum independence bill in the House of Commons in the 1990s, he was laughed out of the chamber by Labour, Lib Dem, SNP and even Tory MPs."
And in a swipe at the Lib Dem minister, he said: "Mr Moore's remarks on the referendum are wittering and irrelevant nonsense - reflecting the fact that he comes up with a new off-the-cuff position every time he talks about it."
Labour's Ann McKechin said: "Until we know exactly what question the SNP propose to ask this debate is about an entirely hypothetical question."
"Clearly any change to the constitutional make-up of the UK would have enormous implications on every part of the UK so it is vital these matters are considered very carefully at all levels."