Academics lead China trade drive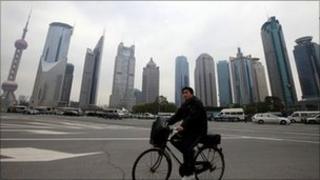 Scottish academics are leading a drive to sell financial expertise in one of China's growing business centres.
A mission to Tianjin, east of Beijing, includes senior representatives from six Scottish universities, in a bid to win export contracts.
The event is organised by the British Council in Scotland.
Universities taking part include Edinburgh Napier, Heriot-Watt, Glasgow Caledonian, Strathclyde, Dundee and Robert Gordon in Aberdeen.
They are to seeking to boost student and academic exchanges, research collaboration and flows of students between Scotland and China.
The group also includes Owen Kelly, chief executive of Scottish Financial Enterprise.
He is a Mandarin speaker, who is to make a pitch to the heads of Tianjin's biggest firms.
Tianjin, with a population of 12m, is seen as a growing centre for financial services.
First Minister Alex Salmond agreed a memorandum of understanding with the city government in July last year.
Mr Kelly said: "Scotland has a depth of experience in financial services that few other international centres can match.
"The industry collaborates closely with our several world-class universities and Scotland is home to the oldest professional bodies in the world for disciplines like banking, accountancy and actuarial science.
"This, allied to our 300 or so years experience as a leading financial centre, makes us a very attractive partner for those at the leading edge of financial services growth, in Asia in general and in China in particular."
The first minister said: "The presence of the delegation from the commercial and academic worlds this week reflects the increasing number of Scottish firms and learning institutions that are exploring new opportunities to do business in China."
The British Council in Scotland has identified the mission as being important to the Scottish economy.
Director Julia Armour said: "Scotland has a long history of excellence in the financial services industry and a proud educational heritage.
"This mission is an important way to create educational and commercial partnerships between Scotland and China.
"We are working with Scotland's colleges and universities to help internationalise Scottish education so that Scotland reaps the benefits of being part of a better connected world."