Break up police forces says study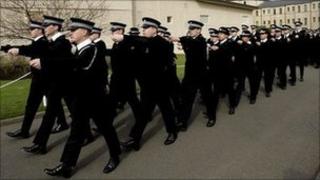 A think-tank has urged ministers to reject proposals for a single Scottish police force and instead to break them up into smaller local divisions.
Reform Scotland suggested establishing a police force in each of the country's 32 local authority areas.
It said the new forces - each overseen by a chief constable - would make police bosses more answerable to local people.
The move is at odds with plans to merge the current eight police forces.
The idea of a single force was outlined in a government consultation on the future of the police service.
Other options cover a reduced number or more streamlined version of the existing system.
Ministers are yet to announce their preferred choice.
Reform Scotland's report, Striking the Balance, says the key to better policing is to give each local authority its own force.
It describes discrepancies in crime detection between existing forces and highlights structures in other countries including Belgium, which the report says has 196 forces.
The report also points out that the existing eight forces are a "hangover" from the old regional council set-up, which owes more to "accident" rather than design.
Alison Payne, one of the report's authors, said: "Instead of one police chief accountable to central government, we want police chiefs accountable to local communities, while strengthening the role of the Scottish Crime and Drug Enforcement Agency will mean that there is greater capacity for providing co-ordinating and supporting roles from the centre."
A Scottish government spokesman said: "A consultation on the future of Scotland's police service closed last month and the responses will be published in due course.
"These responses, together with the developing evidence, will be taken into account."