Scottish cabinet backs sectarian proposals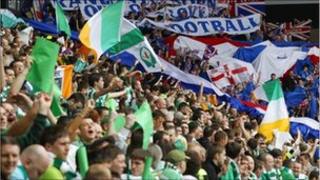 Tough new penalties to tackle sectarianism are to become law within weeks, after being backed at the first meeting of the new Scottish cabinet.
Legislation which could be passed by MSPs by June 30 will see the maximum jail term for sectarian hate crimes rise from six months to five years.
The new laws would tackle disorder around football matches and clamp down on internet hate postings.
They are set to be in place for the start of the football season in July.
The move came in the wake of several high-profile football-related incidents, and First Minister Alex Salmond has spoken of sectarianism as a "parasite" which must be "eradicated".
SNP ministers plan to introduce a bill to the Scottish Parliament in the middle of June, with the hope it will pass through all three stages of the scrutiny process by the end of that month.
Recent problems have seen two men appear in court after suspected bombs were sent to Celtic manager Neil Lennon and two other high-profile supporters of the club in March.
Another man was charged with breach of the peace and assault, both aggravated by religious prejudice, after an alleged attack on Celtic manager Neil Lennon at a football game on 11 May.
An ill-tempered Celtic-Rangers cup game in March, which saw players sent off and touch-line and tunnel confrontations, as well as 34 arrests inside the stadium, resulted in a summit on the issue, organised by Mr Salmond.
Scotland's new chief prosecutor, Lord Advocate Frank Mulholland, is driving the new legislation, while Scotland's new justice minister, Roseanna Cunningham, has been given specific responsibility for tackling sectarianism.
Even though the SNP is now in majority government, it has called on all parties to support the plans, as a way of sending a strong message of the parliament's intent to clamp down on sectarian behaviour.
Justice Secretary Kenny MacAskill said of the proposals: "Firstly, there is the question of threatening, abuse or disorderly behaviour at, or on the way to, a football match. We want to make sure there are specific powers to deal adequately in terms of sentencing and in terms of the law being appropriate.
"Secondly we want to be able to deal with the problems that we have seen with people using electronic communications to peddle hate and sectarian bile.
"There is a bit of a gap in the law there. The law was created long before some of these matters came on stream and we want to make sure it is fit for purpose."
Mr MacAskill told BBC Scotland those who used the internet to spread their sectarian message would be targeted, but he also said there would not be a list of banned songs for football grounds.
He said it would be for the courts to decide.
Meanwhile, the Scottish Parliament met to approve the new team of SNP ministers, which was announced last week.
The appointments were welcomed by most of the opposition parties, although new Liberal Democrat leader, Willie Rennie warned the team were "Alex Salmond's new independence army".