UK Border Agency operations criticised in report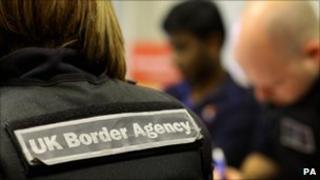 The UK Border Agency (UKBA) has been criticised in a report examining its operations in Scotland and Northern Ireland.
Independent inspector John Vine said he was concerned at how it operated at major ports and airports.
He found senior managers focused on moving staff to passport control, potentially at the expense of detecting drugs and other illicit goods.
He also said it had not assessed the threat to small ports and airports.
The UKBA is responsible for controlling immigration, asylum and customs regulations.
In his review, Mr Vine pointed out there had been no seizures from freight containers for more than 14 months.
And he expressed concern there had been no assessment of the threat posed at small air and sea ports for three years.
The chief inspector also identified problems in the way the agency managed the risks associated with people landing in the Irish Republic and travelling on to the UK.
He said they were operating on intelligence which was more than two years old.
The inspection of border operations took place between 1 November 2010 and 10 January 2011.
It focused on the deployment of detection staff to air and seaports, the risk assessment of small ports, the selection of people, vehicles and freight for searching and the treatment of passengers by agency officers.
Mr Vine said he was pleased to find frontline officers demonstrated a commitment to identifying and seizing illicit commodities, sharing information on trends and using local knowledge to good effect.
'No seizures'
But he went on to say: "I found that the focus of staff deployment at airports was concentrated on the primary checkpoint (passport control), potentially at the expense of illicit commodity detection.
"I found that only 63 out of 683 threat assessments of small air and seaports had been conducted in the whole of Scotland and Northern Ireland, with none since 2008.
"At the ports inspected, I was surprised to find that the agency had not made any seizures from freight containers for the 14-month period between the end of September 2009 and our inspection in November 2010."
He added: "The agency needs to improve the way it identifies and addresses threats to the UK border in Scotland and Northern Ireland. I have made seven recommendations to this effect."
UK Immigration Minister Damian Green said: "This government is committed to radically reforming the immigration system and improving border security.
"It's clear that improvements are already under way with the agency working closer than ever with the police and Serious Organised Crime Agency, and frontline officers improving their use of intelligence at the border and within the Common Travel Area.
"In the past year alone, officers in Scotland and Northern Ireland have detected and removed more than 1,500 immigration offenders, stopped hundreds of people from illegally entering the UK and have prevented more than 100kg of drugs from reaching the streets."