March for women's safety deemed 'unsafe'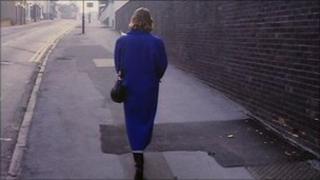 An Edinburgh march highlighting women's right to safety has been rescheduled because of safety fears.
The Reclaim the Night march will pass pubs where fans are expected to be watching the Champions League football final and a rugby match on 28 May.
Edinburgh city council asked Reclaim the Night to change the march route and start at 2000 BST instead of 2100 BST.
March organisers agreed to change the time but insisted they will stick to their route through the Grassmarket.
It will now take place at 2000 BST instead of 2100 BST, starting at the Festival Square on Lothian Road.
Empower women
Laura Leith, spokesperson for Edinburgh's Reclaim the Night march, said: "The council made it clear to us that for the march to go ahead we'd need to make changes like moving it forward by an hour and remaining silent through the Grassmarket to ensure safety of marchers.
"I hope the hypocrisy of this is not lost on local councillors and officials. Either the centre of Edinburgh is not safe for women or the council was over-reacting."
Council officials originally suggested the march should be re-routed to avoid the popular Grassmarket pub area, but organisers insisted they wanted to stick to their itinerary.
Lothians Labour MSP Kezia Dugdale said: "The whole point of Reclaim the Night is to give women a voice and empower them to feel safe in their own community - that's why they do it at night.
"They want to walk past the strip bars and rowdy crowds to make the point that woman have a right to feel safe on the streets."