The century-old problem plaguing Scottish football
The origins of the sectarian divide in Scottish football go back more than a century, and were fuelled by Irish immigration.
Tom Devine, emeritus professor of history at Edinburgh University, says that initially there was merely football rivalry between the two big Glasgow clubs, Celtic and Rangers.
"But because of the fact the cry was up for a team to take on the Catholic Irishmen, the sectarian dimension was there almost from the very beginning," he said.
Rangers, he said, became known as the sporting champions of the Protestants in the west of Scotland, fuelling the divide with the Catholic-based Celtic.
Dual immigration
"One of the vital things about this story is that Scotland's immigration from Ireland was a dual immigration.
"It was about three-quarters Catholic but also about a quarter Protestant, and it was overwhelmingly from the north of Ireland," he said.
The problem of sectarianism prompted efforts by the former First Minister, Jack McConnell to outlaw it.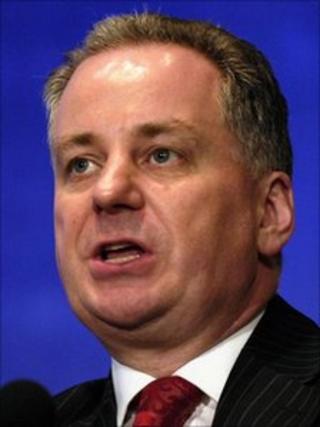 A new law, introduced in 2003, allowed courts to impose additional penalties where an offence was aggravated by sectarian hatred.
But the problem continues to plague football, and the European governing body, Uefa, intervened in April after Rangers fans sang sectarian songs during a tie with the Dutch club, PSV Eindhoven.
Rangers must play their next European match away from home without any fans travelling to the game.
It was the third time Uefa had imposed sanctions on the club.
However, the authorities in Scotland have yet to take such action.
This is despite a BBC Scotland undercover investigation revealing sectarian and political singing at matches under the control of both the Scottish Football Association (SFA) and the Scottish Premier League (SPL).
At the Scottish Youth Cup final at Hampden Park, Celtic fans were filmed singing songs glorifying the IRA, while Rangers supporters sang The Billy Boys, with lyrics offensive to Irish Catholics - referencing "Fenian blood".
Supporters of Heart of Midlothian in Edinburgh were also filmed singing sectarian songs during their match with Celtic last week.
Fan attack
It was at this game that a fan attacked the Celtic manager, Neil Lennon.
John Wilson, 26, was remanded in custody at Edinburgh Sheriff Court charged with breach of the peace and assault, both aggravated by religious prejudice.
The chief executive of the SPL, Neil Doncaster, was asked if it had taken action against any club for sectarian singing.
He replied: "No we haven't."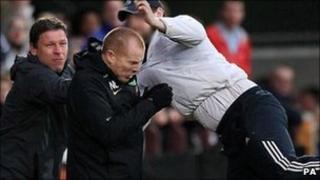 Mr Doncaster explained that the SPL took a different stance to Uefa, which regarded the club and its supporters as one entity.
"We take the view that it's entirely reasonable and fair to expect clubs to do whatever they reasonably can to prevent that from happening," he said.
"If we find that a club has done everything that it reasonably can to prevent that from happening then we take the view that there is no reasonable prospect of getting a conviction against that club and it would be fruitless to take the matter further."
The SFA ceded powers to sanction clubs in the SPL, but now wants to take them back.
Its chief executive, Stewart Regan, said: "If we get to that point then maybe we could put forward more rigorous approaches to dealing with this type of behaviour."
Rangers say they have a rigorous policy to deal with fans displaying sectarian behaviour.
Fans banned
The club has banned 548 supporters for singing offensive songs in the past seven seasons.
Celtic have banned six supporters in the last five seasons.
Strathclyde Police, which covers the grounds of both Rangers and Celtic, as well as Scotland's national stadium, Hampden Park, has made 797 arrests for sectarian behaviour in the three years from 2008 to 2009.
However, they are unable to say how many of these were football-related.
The Celtic manager, Neil Lennon, has been the target of parcel bombs and bullets sent through the post - and the subject of sectarian abuse on social networking sites.
The Scottish Government has announced it will stiffen penalties for those spreading sectarian hatred online.
Deputy First Minister Nicola Sturgeon said the government had invested £1.7m in organisations specifically focused in tackling sectarianism.
"We've announced plans for a new law to make abusive behaviour over the internet an indictable offence.
"So it's right that we continue to challenge ourselves and make sure that we are doing everything possible to tackle behaviour, conduct and attitudes that might be only on the part of a minority of people in Scotland but nevertheless are completely and utterly unacceptable."
You can watch BBC Scotland's investigation into sectarianism, Bigotry, Bombs and Football, at 2245 BST on BBC One Scotland.