Improved Scottish shop sales 'temporary'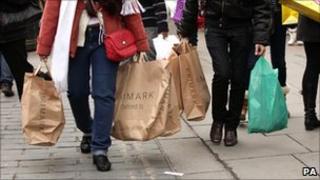 Analysts are warning that an improvement in sales at Scotland's shops in April may only be temporary.
The latest figures from the Scottish Retail Consortium (SRC) said like-for-like sales last month were up 3.4% on the year.
This compares with a drop in retail sales in March.
The SRC said the unseasonably warm weather, late Easter and the Royal Wedding gave customers more opportunities and more reasons to shop.
But one analyst - David McCorquodale, head of retail in Scotland for KPMG - said it was far too early to tell if these latest figures marked the start of a longer term trend.
Mr McCorquodale said: "Consumers and retailers alike remain cautious about the remainder of the year with sentiment being more negative than positive. Interest rates being maintained will have been welcomed by retailers."
Warm weather
The SRC figures showed that sales were up at Scotland's shops compared to April 2010, once the effect of new shops opening was stripped out.
However last year only part of the Easter Holiday weekend fell within April and this year the month included an extra holiday to mark the Royal Wedding.
Clothing and footwear benefited from the warm weather as did outdoor goods, and DIY and leisure equipment.
But big ticket items including furniture were badly hit amid continued consumer uncertainty about job and income prospects.
Fiona Moriarty, director of the Scottish Retail Consortium, said: "Scotland's highest April temperatures since records began in 1910 and widespread discounting encouraged people to buy summer food, clothing and footwear. Gardening and other outdoor products also did well.
"But consumer confidence is still lower in Scotland than the rest of the UK and sales of big-tickets items such as furniture struggled as people put off big spending commitments."
She added: "Overall, April's solid sales growth is good news after very weak figures in March but the fundamentals have not changed.
"Underlying conditions for customers and retailers will go on being tough for many months yet."