McConnell concern over Labour MPs Scots leader vote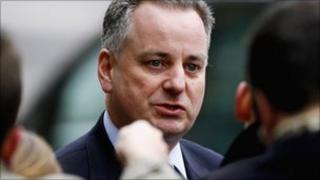 Former First Minister Lord McConnell of Glenscorrodale has said Labour MPs should have less say in choosing Scottish Labour's next leader.
In an exclusive interview with the BBC, Lord McConnell said it was wrong that in the past MPs had equal votes with MSPs on the issue.
He was speaking ahead of a meeting of the party's Scottish executive.
Iain Gray said last week that he would stand down as Scottish Labour leader following the Scottish election result.
Lord McConnell said: "I think it was wrong, in the past, that the MPs had equal votes with the MSPs on the election of the leader in Scotland.
"And I think, where the constitution cannot be changed in advance of a leadership election this summer, I think for both the leadership election and the deputy leadership election, MPs should voluntarily and collectively - all of them - withdraw from the process and not nominate and not vote as MPs."
"Vote as party members but not as MPs. I think unless that happens I think there will be real credibility problems for the new leader of the party in Scotland."
Lord McConnell, Scotland's longest-serving first minister to date, stood down as Scottish Labour leader after the SNP's 2007 election victory.
He took his seat in the Lords in June last year after being given a peerage in Gordon Brown's dissolution honours list.
His comments came after Alex Salmond's SNP achieved an unprecedented overall majority in the Scottish Parliament, taking 69 of the 129 seats at Holyrood.
Labour went down from 46 seats to 37, losing some of its most senior figures.
Labour leader Ed Miliband and Mr Gray, who will stand down as Scottish leader in the autumn, have given former Scottish secretary Jim Murphy MP and Lothians MSP Sarah Boyack the task of chairing a review into the Labour party in Scotland.
The details of this review will be set by the party's Scottish executive committee.