SSTA members vote for possible strike over pay deal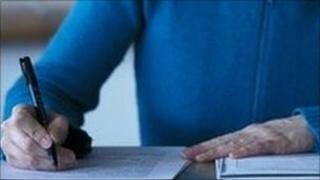 Members of a teaching union have voted in favour of resisting a new deal on pay which will see their pay and benefits cut.
The Scottish Secondary Teachers' Association (SSTA) has backed possible strike action over the £45m package of cuts.
The pay deal was the centre of discussions at the union's annual conference in Peebles.
SSTA president Peter Wright said teachers were "extremely angry".
He condemned the deal put forward by the Convention of Scottish Local Authorities (Cosla) and the Scottish government, which has been accepted by Scotland's largest teaching union, the EIS.
It includes a two-year pay freeze, cuts to maternity pay and much reduced pay for staff trying to live on temporary work.
Mr Wright said: "I think the motion calling for members to consider industrial action being passed unanimously speaks volumes about the way our members are feeling."
Curriculum for excellence
As the largest organisation, the EIS's decision is expected to be ratified by the Scottish Negotiating Committee for Teachers.
Mr Wright added: "I think it's fair to say that there are a significant number of disappointed teachers in the SSTA, and disappointed teachers in the EIS as well.
"Disappointed and astonished that a trade union could do this kind of thing."
Education Secretary Mike Russell said the EIS was right to back the pay and conditions package being offered.
He told BBC Scotland: "I think the EIS is right to say this is the 'least bad option', because if this had not been accepted then I think the local authorities would have gone further.
"I think what we have got here, regrettably, is something that we just have to take and move on."
In his speech to the conference, Mr Wright also renewed his criticism of the curriculum for excellence.
He described the new curriculum as "not fit-for-purpose" partly because standards are uncertain.