Scottish election: Labour MSP in presiding officer bid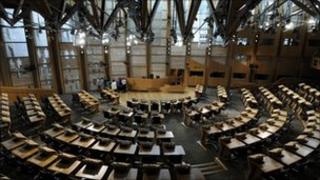 Labour's Hugh Henry has become the second MSP to declare he is running for election as the Scottish Parliament's presiding officer.
Ahead of the election on Wednesday, the former minister also said he would not stand in the way of an independence referendum if successful.
The SNP's Christine Grahame has also put her name forward and party colleague Tricia Marwick will stand.
Holyrood is due to meet for the first time since the election on Wednesday.
The result saw Alex Salmond's SNP achieve an unprecedented overall majority in the Scottish Parliament, taking 69 of the 129 seats at Holyrood.
Labour went down from 46 seats to 37, losing some of its most senior figures.
Wednesday will also see the swearing in of MSPs, with 46 taking up seats in parliament for the first time.
A total of 36 members are returning, having served continuously since the first election, in 1999.
Meanwhile, Scottish Secretary Michael Moore is to meet Mr Salmond in Edinburgh on Thursday, following the SNP's demands for more economic powers in light of the election result.
The Scottish first minister has said Holyrood must be given more ''economic teeth'' in the Scotland Bill, currently going through Westmisnter.
The SNP wants greater borrowing powers, control over corporation tax and devolution of the Crown Estates.
Mr Salmond has also indicated he would not attempt to influence his MSPs to elect an SNP presiding officer.
His position came amid speculation that SNP MSPs may wield their majority to elect one of their own members, because of fears that an opposition member could rule the referendum beyond the parliament's powers.
But Mr Henry said opposition MSPs should stop "carping on" about the validity of an independence referendum.
"We have to respect the mandate that the SNP has been given by the people of Scotland to hold an independence referendum, and that is something that both parliament and the political parties should acknowledge," he said.
"I am very clear that the people voted for a manifesto that promised a referendum in the last years of the new Scottish Parliament, so it is absurd for politicians to start demanding an early referendum."
Mr Henry, if elected, said he would want to change the way parliament operates
Labour MSP Patricia Ferguson will stand to become one of Holyrood's two deputy presiding officers, a post she has previously held.
It is thought Tory MSP John Scott will also stand for the post
Holyrood's out-going presiding officer, Tory, Alex Fergusson, will be the first former holder of the post to return to parliament as an MSP.