Scots Tory leader Annabel Goldie not 'forced' to quit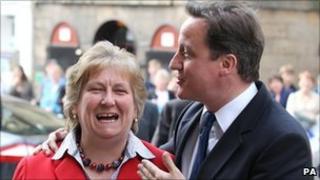 Claims that Annabel Goldie was forced to quit as leader of the Scottish Conservative Party have been described as "absolutely incorrect".
Some newspaper reports suggested that the Prime Minister David Cameron told Miss Goldie she should stand down.
But speaking on BBC Radio Scotland the Tory's only Scottish MP David Mundell said she had Mr Cameron's full support.
Miss Goldie was the third opposition party leader to resign after the SNP's victory in last week's elections.
She announced her intention to step down in the autumn at a meeting of Tory MSPs at Holyrood on Monday.
Miss Goldie said she was "disappointed" by the party's performance at the polls.
The Conservatives secured 15 seats in last Thursday's election.
In 2007 the party won 17 seats at Holyrood in 2007, but notionally, under new boundaries had 20 seats.
Mr Mundell insisted that the prime minister had given Miss Goldie his backing to continue as leader.
He said: "If Annabel had wanted to carry on she would have had David Cameron's full support in doing that.
"She made it clear that when the election later this year for a leader under the new structure took place, that she didn't feel that she could give the commitment to go, not just the full distance to the election, but beyond that if the party was playing a crucial role in the next Scottish Parliament."
Speaking after announcing her intention to quit as leader, Miss Goldie said: "I believe that the time has come for the torch to pass and I can confirm that I will not be a candidate.
"There are four years until the next UK general election, and five years until the next Holyrood contest.
"I want my successor to have the maximum time for him or her to shape the party and its policies and to lead the opposition at Holyrood."