MSPs at Holyrood as new Scottish Parliament meets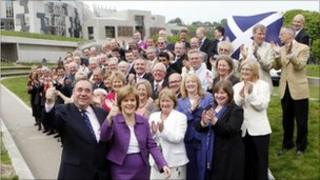 Scotland's newly elected parliament will meet for the first time this week.
MSPs are due to begin arriving at Holyrood where over the coming days they will be sworn in and choose a new presiding officer.
The SNP's Christine Grahame has become the first politician to put her name forward for the position.
Later in the week members of the new parliament will vote to formally confirm Alex Salmond as the new first minister.
MSPs will complete the registration process over the next few days with the Kirking of the parliament at St Giles Cathedral on Tuesday.
On Wednesday the first new parliamentary session will see MSPs taking the oath and electing the new presiding officer and two deputy presiding officers.
Ms Grahame released a statement confirming her intention to stand for election.
She said: "I am known in parliament as an independent-minded backbencher and that is the same way I would approach the task of presiding officer.
"I have always championed the cause of backbenchers being given a fair crack of the whip - and that is even more important than ever now we have a majority in parliament for the first time.
"I have the experience to do the job, having been an MSP since 1999 and having chaired three committees in that time."
Lively debates
She added: "Parliament needs to be a forum for robust, lively and interesting exchanges, and, if elected as presiding officer, I would ensure that backbenchers have more of a say and also look at ways of making debates more interesting and relevant."
Members will be able to submit nominations on Wednesday, with the election taking place later in the day.
The SNP swept to victory in last week's election, winning 69 of the 129 seats.
Labour has 37, the Tories 15, the Lib Dems five, and others three.
During an address in Edinburgh on Friday, Mr Salmond said: "I'll govern for all of the ambitions for Scotland and all the people who imagine that we can live in a better land.
"This party, the Scottish party, the national party, carries your hope. We shall carry it carefully and make the nation proud."
Labour's Iain Gray announced he would stand down as leader of the Scottish party in the autumn and Tavish Scott of the Liberal Democrats resigned over the weekend.