Scottish election: Salmond offers olive branch to rivals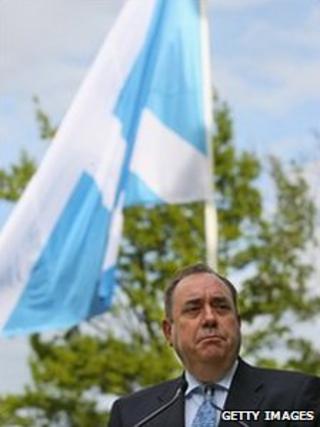 SNP leader Alex Salmond has offered an olive branch to his political rivals in his first speech since his party's landslide win in the Scottish election.
He said the SNP may have won Scotland's first majority government but it "did not have a monopoly on wisdom".
Mr Salmond said he had spoken to other party leaders and welcomed their pledge to provide constructive opposition.
He said he would seek more parliamentary powers such as devolving corporation tax and borrowing powers.
He confirmed he would be seeking re-election as first minister of Scotland and described the result - 69 SNP seats in the 129-seat parliament - as a "victory for the nation".
It was a triumph for Scotland, he said, because the breakthrough needed to win the election with a majority of seats "required the trust of all the people".
The SNP won numerous seats in traditional Labour heartland areas like Glasgow and Lanarkshire.
Mr Salmond said: "Earlier today, Iain Gray, in a very gracious phone call, conceded defeat and also assured me that the Labour Party would work constructively with the SNP.
"Before I left Aberdeenshire Tavish Scott also phoned me and also assured me that the Liberal Democrats would seek to work constructively as an oppstiiton in the Scots Parliament.
"Later this evening I'll be speaking to the prime minister and laying down markers as to what this result, this mandate, means in terms of Scotland's relationship with the UK."
Mr Salmond said there were three areas his party intended to press ahead with.
He explained: "The areas we want to pursue as an immediate priority in terms of reinforcing the powers of the Scotland Bill to give economic teeth to that legislation going through the Westminster Parliament are areas which carry not just the support of the SNP, but the support of other parties.
"In identifying borrowing powers to keep the revival in the constuction industry of Scotland moving, to keep employment and jobs and recovery in Scotland, we have the support of the Labour Party.
"In identifying the control of the Crown Estate commission, so that Scotland gets the benefit of its vast renewable wealth of offshore resources in a way we never have in terms of our vast oil and gas resources, we have the support of the Liberal Democrats.
"And identifying the need to devolve corporation tax powers it was a committee of the entire parliament that made the point that that power would have to be devolved to keep Scottish industry competitive with developments elsewhere."
In all, the SNP won 69 seats, Labour secured 37, the Conservatives won 15, the Lib Dems made it to five, the Greens won two and independent Margo Macdonald also won a seat.