Scottish election: Labour's 'class of '99' lose to SNP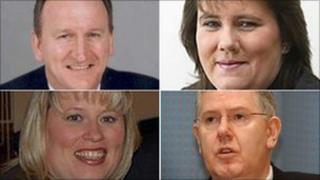 Nine Labour MSPs who had held constituency seats since 1999 have lost them to the SNP in the election.
In the west of Scotland, former ministers Andy Kerr, Frank McAveety and Tom McCabe lost their seats.
Pauline McNeill, Karen Whitefield and Karen Gillon were all beaten by the nationalists, as were Cathie Craigie and Irene Oldfather.
In the east, Labour's Sarah Boyack lost her seat to the SNP's Marco Biagi.
Labour had better news in Eastwood where it held the Tory target.
Labour's Ken Macintosh had feared losing the constituency following boundary changes which gave a notional victory to Jackson Carlaw of the Scottish Conservatives.
And Iain Gray retained his East Lothian seat following speculation that he could be beaten by SNP's David Berry, who cut the Labour majority to 151 votes.
However, the party failed to take Glasgow Southside, where it had a slim notional majority after boundary changes.
Nicola Sturgeon - who represented Glasgow Govan in the last Holyrood parliament - won the seat with a majority of more than 4,000.
Mr Gray blamed his party's losses on the "collapse of the Lib Dem votes" and said clearly disgruntled Liberal Democrats were going to the SNP.
Reacting to the loss of former ministers Tom McCabe and Andy Kerr, he said: "It is very disappointing - two very, very good colleagues who will be a great loss to the Scottish Parliament, that is for sure."
He added: "What we are seeing is complete and utter collapse of the Lib Dem vote and significant loss in the Tory vote and that is coalescing with the SNP.
"We have fought a very hard campaign over six weeks around what I think is the issue that voters believe is most important - jobs and growing the economy."