Scottish election: Tavish Scott's life in politics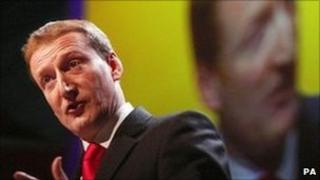 Tavish Scott has been the MSP for the Shetland Islands since 1999 and became leader of the Scottish Liberal Democrats in 2008.
Born in Inverness and schooled in Lerwick, he represented the Lerwick harbour and Bressay ward as a local councillor on Shetland Island Council from 1994 to 1999.
In 1999 he was elected as first MSP for Shetland and continues in the seat.
He became the deputy minister for the Scottish Parliament in November 2000.
In March 2001 he resigned from the post after refusing to support the executive's opposition to a boat tie-up scheme to preserve fish stocks.
Mr Scott returned to frontline politics in 2003 when he took up the post of deputy minister for finance, public services and parliamentary business in May of that year.
He was appointed as minister for transport in 2005, joining the Scottish cabinet in the process.
Then from 2007 to 2008 he was the Scottish Liberal Democrat shadow secretary for finance and sustainable growth until he became leader of the party.
He secured 59% of votes in the race for party leadership, beating Ross Finnie and Mike Rumbles for the role.