Royal wedding: Scots turn out to toast couple's big day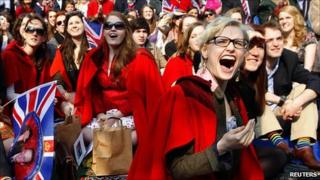 Events have been taking place across Scotland to celebrate the royal wedding.
St Andrews, where Prince William and Kate Middleton first met, hosted a breakfast and party for about 2,000 people.
Balmoral Castle visitors were watching the wedding on big screens.
However, a protest group of more than 100 gathered in Edinburgh, and an unofficial party in Glasgow has been criticised by the local council.
In St Andrews, a bagpipe procession formally kicked off the event for ticket-holders at the free party at St Salvator's Quadrangle.
Local firms and organisations came forward over recent weeks and months to offer their support to the event, which was showing the wedding on a big screen.
John Montgomery, 44, from the Tayport area, came to St Andrews because his daughter was among those performing in the quadrangle, alongside her primary school classmates.
"I think St Andrews feels responsible for all of this," he joked. "The atmosphere's fantastic here. It's amazing really for a small Scottish town to have two billion people around the world watching it."
St Andrews student Ronnie Guthrie, 20, from Perth, arrived for the party at 0730 BST.
He told BBC Scotland: "I came to the party because I wanted to show off my Britishness. I have been awake since 5.30 with excitement, I just couldn't sleep.
"I didn't get a ticket in the ballot for the party, so I had to come two hours before my friends.
"I wanted to come because this is the biggest thing in my life, until the next coronation. It feels great to be in St Andrews, I'm a royalist."
Daniel Pycock, 19, from London, said: "I came because I'm a proud royalist. There are not many moments that you're allowed to celebrate and show your national pride and patriotism.
"I have been up all night writing an essay so I just stayed up.
"I plan to make a day of it with my friends - the atmosphere at first was lethargic because it was fairly cold but it's now warmed up, the sun is out and everyone is very excited. It's a great day."
After their marriage, the royal couple will be known the Earl and Countess of Strathearn, linking the newly-weds to Perthshire, as well as the Duke and Duchess of Cambridge and Baron and Baroness Carrickfergus.
Far fewer official street parties have been organised in Scotland than in England, with 16 taking place in Edinburgh, seven in East Lothian and four in the Borders.
There is just one road closure in Glasgow for a street party. And in a number of areas, including North Ayrshire and West Lothian, there have been no official parties registered.
'No feelgood factor'
Shetland and Highland councils have not given their employees the day off.
Highland Council said it would have cost £350,000 to provide cover for frontline employees, such as social workers.
A spokesperson said: "The council has made so many cuts already. We urge our staff to think about their position and how lucky they are to have a job with the council.
"I know people will be disappointed, but the decision was made for the very best of reasons."
However, more than 40 schools in the Highlands, involving more than 4,000 pupils and teachers, will take part in events such as mock weddings, feasts, quizzes, and arts and crafts.
Dundee Trades Union Council (TUC) is holding its annual Mayday march and rally. They said that the royal wedding provided "no feelgood factor" for those facing cuts in jobs, services and benefits.
About 400 were watching the wedding on a big screen in Festival Square in Edinburgh.
A group of more than 100 republican demonstrators gathered outside St Giles' Cathedral on the Royal Mile. They walked to the foot of the Royal Mile, briefly holding up traffic.
The protesters were challenged by a group of about 20 pro-monarchy demonstrators and police kept the two sides apart.
'Romantic story'
Glasgow City Council issued a warning for royal party-goers to stay away from Kelvingrove Park after an unofficial "alternative" royal wedding celebration was organised through Facebook and other websites.
More than 10,000 people used the social networking site to say they planned to attend the event and by 1400 BST there were several thousand people there.
Police are now in attendance to monitor the situation.
Train operator East Coast said there had been a 50% increase in train bookings between Edinburgh and London for the day before the wedding.
One woman, who was travelling down to London for the day from Scotland, said: "I've grown up with Wills and Harry in the news and now he's got his lucky lady. It's a lovely romantic story as much as anything else."
First Minister Alex Salmond instructed that the Royal Standard of Scotland be flown from St Andrew's House, the headquarters of the Scottish government in Edinburgh.
Mr Salmond, who attended the wedding with his wife Moira, said: "This is a great day of celebration and it is wonderful that the Queen has bestowed the Scottish title of Earl and Countess of Strathearn on the royal couple.
"The Royal Standard of Scotland is flying from St Andrew's House in Edinburgh in honour of this special day.
"I wish the royal couple my warmest wishes for a long and very happy married life together."
Businesses across Scotland were attempting to throw some fun into the proceedings.
John G Renicks butchers in Thornhill, Dumfries and Galloway, made red, white and blue sausages.
While Scottish brewers BrewDog made a "royal virility performance" beer, containing herbal Viagra.