EIS union members accept revised teacher pay offer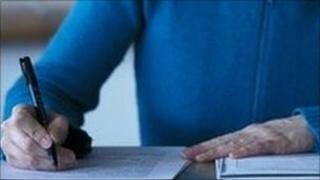 Members of Scotland's largest teachers' union have voted to accept a controversial pay and conditions package.
The Educational Institute of Scotland (EIS) said it meant there would be some cuts in pay and changes to conditions in exchange for guarantees on jobs.
The union believed it was the best deal possible in the current economic climate.
But members of the smaller union, the SSTA, have rejected the package.
The EIS has about 50,000 teacher members. Of those who voted, 56.2% accepted the offer and 43.8% rejected it.
The Scottish Secondary Teachers Association (SSTA), which represents about 8,500 teachers, said the latest proposals would mean a cut in pay for supply teachers and that staff who gained qualifications would not get a pay rise.
'Difficult decision'
More than 90% of SSTA members who voted rejected the revised proposal.
EIS general secretary Ronnie Smith said: "While it is always difficult to recommend a package which represents an overall cut in funding for education, the EIS is clear that this offer was the best that could be achieved in the current financial climate while giving priority to protecting jobs.
"All teachers are affected by varying degrees and for many this has been a very difficult decision to take.
"By voting for a package which includes a two-year pay freeze in addition to other measures which will cut the annual overall teacher pay-bill by around £45m, Scotland's teachers will be taking a significant hit for a financial crisis that is not of their making."
SSTA general secretary Ann Ballinger, said: "The SSTA will continue to negotiate to reach a settlement but must point out that, had the government and Cosla approached the teacher unions in autumn 2010 as the scale of the financial problems became apparent, we might now have an agreement as to how the relevant savings could have been made."