Warning for fire hydrant vandals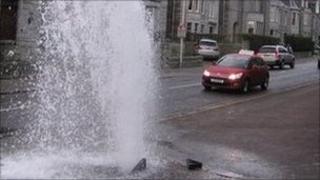 Scottish Water said it was concerned that vandals who set off fire hydrants could cause substantial disruption to water supplies and endanger lives.
The utility said the warm, dry weather in the past week had resulted in more than 30 incidents reported in parts of Glasgow, including Easterhouse, Drumchapel and Castlemilk.
It said the pressure in some water mains could cause serious injury.
And large volumes of water could cause hazardous conditions for motorists.
Scottish Water said two of its engineers were attacked when they tried to fix a hydrant in the Scotstounhill area of Glasgow.
Garry Kirkwood, Scottish Water's customer manager (field response), said: "Vandalism of fire hydrants has caused significant inconvenience to many of our customers.
"If there are a number of these incidents Scottish Water has to bring in extra resources to tackle the problem and this undermines our ability to deal with any other water-related issues.
"In addition, fire hydrant vandalism can cause road flooding and affect road traffic. People setting off high-powered hydrants or passing pedestrians or motorists could be injured or killed."
Assistant Chief Officer Lewis Ramsay, director of community Safety at Strathclyde Fire & Rescue, said: "Firefighters need water to fight fires. Their task can be seriously hampered if water pressure is reduced or hydrants are impossible to open because of vandalism.
"Most hydrant vandalism is carried out by children. Parents should warn their children that hydrant vandalism is not innocent fun but is something that can pose a real danger to themselves and their local community."