UK nuclear weapon programme 'shameful' says cardinal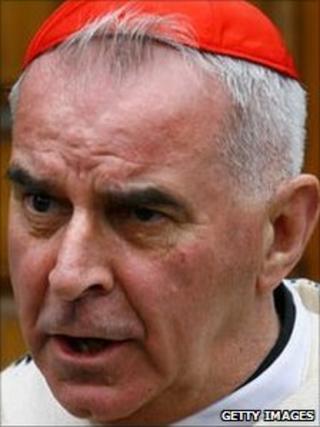 Scotland's Catholic figurehead has urged the UK government to give up its "shameful" nuclear weapon programme.
Cardinal Keith O'Brien was addressing a rally against nuclear weapons outside the Faslane naval base on Gare Loch.
The head of Scotland's Roman Catholic Church was joined by representatives from churches across Scotland in an Easter witness for peace.
Quoting the words of Pope Benedict XVI, he said: "In a nuclear war there would be no victors, only victims."
The cardinal, who was protesting at Faslane for the first time, said: "I've been speaking of the teaching of the Catholic Church on nuclear weapons for many years now, telling our message to whoever is willing to listen, and I'm very pleased to repeat that teaching again.
"As you'll see, it's a consistent teaching, a central part of our pro-life stance, that has human dignity at its very core.
"And it's a message I'm all the more glad to repeat here at the gates of Faslane, which is the very heart of Britain's nuclear weapons industry."
Cardinal O'Brien said Trident was becoming obsolete, providing the opportunity to give it up.
He added: "Here at the gates of Faslane, there is no better place to say that it is not courageous of Britain to have these dreadful weapons of mass destruction.
"It is shameful to have them. If our government wished to truly be courageous it would unilaterally give up its nuclear deterrent, giving the witness and impetus for other nations to do the same."