Scottish 1911 census details revealed after 100 years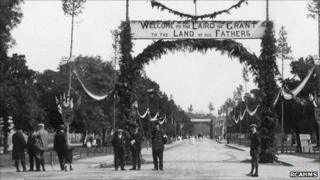 Details of the 1911 census have been released after 100 years under lock and key.
The results, released by the Registrar General for Scotland, reveal a snapshot of life during an era of mass migration and urban overcrowding.
The census was the last before World War I and features details of Scotland's 4.75 million citizens, including John Logie Baird.
The results are being made available to the public on a pay-per-view basis.
Registrar General, Duncan Macniven said: "The 1911 census gives us a snapshot of what Scotland was like just before the great cataclysm of the Great War.
"Many thousands of the young people recorded here never returned from the battlefields of Europe."
The census showed that Fife's population increased by 22% on the previous decade but in Orkney it had shrunk by 10%.
This reflected Scotland's industrialisation and people's drift from rural areas to towns and cities, according to Mr Macniven.
Lanarkshire, Fife, Dumbarton and Renfrew had the greatest population increases and Inverness, Orkney, Argyll and Forfar had the greatest drops.
The top five occupations for men in 1911 were in iron and other metal manufacture, followed by agriculture, coal mining, building and commerce such as being a clerk.
Most women were in domestic service at the time. The next highest proportions were in textile factories, making and selling clothes and agriculture.
'Quite poignant'
Russians made up the largest number of foreigners (6,102), followed by Polish (4,930), Italians (4,594), Germans (2,362) and those from the US (1,176).
Just six Mexicans were officially in Scotland on the night of the census.
Family historian Chris Paton, from Largs, said it would be most useful to those looking to uncover more details about relatives.
He said: "You may find that although you knew who your grandmother was, you may realise that she had two brothers and a sister, and of course, you can then trace their descendents and maybe find further information about the family that you didn't know before.
"But one of the key things about this particular census was that it was essentially the end of an era.
"So in some ways it can be quite poignant when you come across a family in this census because it may be the last record that you find that those particular members of the family ever recorded."
It comes after figures showed 30% of 2011 census forms have not yet been returned.
However, Duncan Macniven said the result was roughly in line with expectations.
Census takers will visit householders over the next fortnight to remind householders of their legal obligation to submit the questionnaires.
A census is held every 10 years in the UK.
The 1911 census for England and Wales was published in 2009 but the Scottish census was delayed due to privacy laws.