Scottish election: Parties continue election drive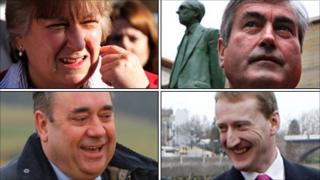 The main political parties are focusing on different themes as they continue their election drive over the weekend.
The Scottish Tory party is tackling the issue of student funding, while Scottish Labour is out campaigning on jobs.
Scottish Liberal Democrats are concentrating on cutting the salaries of top earners in the public sector.
And the SNP's main theme of the day is making the most of earnings from the oil and gas sector in the North Sea.
Scottish Tory leader Annabel Goldie is arguing that the Conservatives stand alone in "telling it like it is" on funding for further education.
Ms Goldie says 13,000 student places could be lost, unless the other parties face up to the financial crisis and insist on some form of graduate contribution.
Party pledges
Scottish Labour, meanwhile, is concentrating on the ability to earn money as it campaigns on jobs.
The party is highlighting its plans to encourage local authorities to create employment opportunities.
The Lib Dems want to save Scotland £35m by cutting the pay bill for top earners in the public sector.
Party leader Tavish Scott says cutting pay for the big earners will be one of the measures included in the Lib Dem manifesto when it is launched on Tuesday.
The SNP are concentrating on the potential earnings from the oil and gas sector in the North Sea.
Leader Alex Salmond has said the bill for the chancellor's recent tax changes could ultimately run into tens of billions of pounds.
He is promising a better deal for Scotland from the sector through incentives and development.