University tuition fees rejected by lecturers' union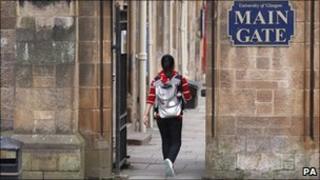 Lecturers have voted to stand fast against tuition fees in Scotland despite increasing numbers of job losses and course cuts.
Meeting in Dundee, the University and College Union rejected calls from principals for graduates to pay towards the cost of their degrees.
They want spending shortfalls to be filled by a tax on businesses that benefit from higher education research.
Members also called for an inquiry into compulsory job losses at universities.
Gordon Watson, the new union president, said: "Fewer people would go to university so the money we would take in wouldn't be the same.
"Higher education would become a small and elitist affair."
He added: "Higher education has to expand for this country to go forward."
Redundancies proposed
The University of Stirling has already confirmed 17 redundancies at the department of aquaculture.
The UCU believes that until now there have been only isolated cases of forced redundancies in Scottish higher education.
They are concerned that other universities trying to tackle the 8% cut in their budgets from the public purse may consider similar action.
Dundee, Edinburgh Napier and Glasgow universities are among the institutions that have already announced proposed redundancies.
Delegates addressing the hall said they were concerned individual members of staff at institutions across Scotland may be singled out for redundancy because they are not on close terms with managers.
Universities are seeking to make savings as they have agreed, in response to soaring demand for places, to maintain the current number of students despite sizable cuts in their budget and revenue from investments.
Funding gap
The representative body Universities Scotland says principals are concerned by a gap between public funding north and south of the border.
They believe analysis of the figures indicates this could be £200m, a figure disputed by the education secretary Mike Russell.
Tuition fees were abolished in Scotland in 2000, two years after their introduction by the Blair government at Westminster.
A one-off graduate endowment fee of just over £2,000 was scrapped by Scottish ministers three years ago.
However, there is increasing pressure to find a new method of funding for Scottish universities, especially after tuition fees in England increase next year.
Funding for Scotland's university sector will reduce by £67m in the year ahead, as part of a cut of about £1bn in the 2011-12 Scottish budget.
Students at English universities currently pay £3,290 a year but this could rise to as high as £9,000 at some institutions when new rules come into force.