Scottish election: Holyrood parties mark Mothers' Day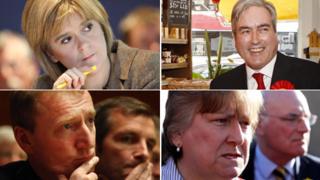 The main political parties have marked Mothers' Day, as the fight for Holyrood continues ahead of the 5 May election.
SNP deputy leader Nicola Sturgeon outlined her party's family-orientated polices, while Labour leader Iain Gray spoke of "SNP broken promises and Tory cuts" hitting women hard.
The Liberal Democrats and Conservatives focused on support for young children.
Meanwhile, the Greens' Patrick Harvie is taking part in a head-to-head with environmental writer George Monbiot.
The two will slog it out on the issue of nuclear power during an event at the Glasgow International Comedy Festival, after Mr Monbiot declared his support for the nuclear industry in the wake of Japan's Fukushima disaster.
Tough times
Ms Sturgeon joined SNP candidates and mothers in Glasgow city centre, where she highlighted the SNP's support for families in tough times.
She said the council tax freeze, the abolition of prescription charges and a freeze in water rates were among SNP policies that had made families £500 better off over the past four years.
"The SNP has been good for Scotland's families and a re-elected SNP government will continue to make Scotland fairer for families," she said.
Mr Gray and Labour candidates met shoppers on Glasgow's Sauchiehall Street.
The Labour leader said: "The Tories are hitting families in the pocket, and the SNP are just not doing enough to help, with promises to new mums, nursery children and school children all broken."
He said his party's candidates were out across Scotland talking to voters about the key election issues - jobs, the economy and public services.
Early years
The Liberal Democrat's education spokeswoman, Margaret Smith, was out campaigning in Edinburgh.
She said her party would be announcing plans, in its manifesto next week, on early years education and early intervention to give children "the best start in life and a better future".
She said people wanted a strong government that understood the tough choices they had to make.
"They want real plans and solutions on creating jobs, keeping services local and restoring excellence in Scottish education. It's Scottish Liberal Democrats who have those solutions," she said.
The Conservative leader Annabel Goldie, who was in Renfrewshire, said her party would support families by continuing the council tax freeze and by expanding the number of health visitors in Scotland available to children up to the age of five.
She added that her party had a positive record of delivery in the Scottish Parliament in terms of supporting families, jobs and businesses.
Referring to her party's manifesto, to be launched on Monday, she said: "It is all about jobs, it is about opportunities, it is about supporting families, making Scotland safer, and promoting a greener Scotland."