Scottish elections: Focus on education and health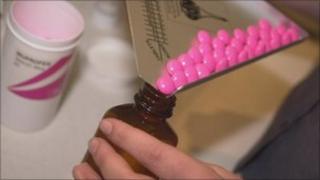 Education and health are top of the agenda on the Holyrood election trail.
Tory leader Annabel Goldie called for "second chance centres" for unruly school pupils.
Lib Dem campaign chairman George Lyon was promoting messages on jobs and education while Scottish Labour Leader Iain Gray met apprentices at a wood processing company.
Deputy SNP leader Nicola Sturgeon visited a pharmacy in Glasgow to mark the abolition of prescription charges.
Candidates from all the main political parties will also be taking part at a BMA hustings at Edinburgh University, on the future of medical education in Scotland.
Campaigning in Hamilton, Miss Goldie said almost 160 youngsters were excluded daily from schools - the equivalent of one pupil every two minutes.
She said "second chance centres" would see problem pupils taken out of mainstream education and given help to refocus their lives.
Youth unemployment
The Scottish Tory leader said: "Well-behaved pupils must be able get on with learning, and teachers to get on with teaching, without the distraction of a few badly behaved pupils.
"It is common sense for school discipline to be at the forefront of the education debate - until we get to grips with it, Scotland's schools will continue to get a raw deal."
Meanwhile, Ms Sturgeon said the reduction and eventual abolition of prescription charges in Scotland meant "a new era of health care free at the point of need".
She added: "The SNP are the only party with a record of commitment to no prescription charges.
"Under Labour, prescriptions cost nearly £7, under the Tories and Lib Dems in England they are £7.40.
"The abolition of prescription charges shows what an SNP government working for Scotland can do."
Meanwhile, Mr Gray arrived in Stirling to warn unemployment could lead to another "lost generation"
Claiming youth unemployment had soared by almost 20,000 during the SNP's time in office, he said: "I remember the dark days of the 1980s. I was a teacher and saw first hand youth unemployment destroy a generation.
"We cannot return to those days - we must act today to stop the ticking time bomb of youth unemployment."
He reiterated his pledge to give those unemployed for six months or more "the chance of a real job", as well as guaranteeing an apprenticeship for all suitably qualified youngsters.
Public services
Commenting after campaigning in the West of Scotland, the Scottish Liberal Democrats George Lyon said parents had told him that they shared his party's ambition to restore Scotland's reputation for "excellence in education".
He added: "We want more powers for headteachers, because they're best placed to make decisions about their schools and we are committed to improving the pupil to teacher ratio in our classrooms.
"Over 600,000 young people will benefit from Liberal Democrats' solutions for education in Scotland."
Also hitting the campaign trail, the Scottish Greens said the main political parties were "all mouth and no trousers" on public services.
Co-leader Patrick Harvie said their pledges to protect public services could not be trusted unless they could say where the money was coming from.
He added: "We know where it should come from.
"Untaxed business assets and the wealthiest in Scottish society.
"Most Scots support raising fairer taxes, so why are we the only party offering an alternative to the cuts?"