Fewer disadvantaged pupils entering Scots universities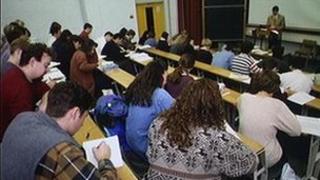 Scottish universities have been accused of being the worst in the UK for widening access to disadvantaged students and for drop-out rates.
Official figures showed only 26.4% of entrants from less well-off homes took up places in 2009-10 - 3.6% below the UK as a whole.
The Higher Education Statistics Agency data also showed the drop out rate was 9.3%, compared to 7.9% across the UK.
The National Union of Students Scotland described the figures as shameful.
It has called on the next Scottish government to boost the value of grants and loans and commit to a veto on fees.
However, data collated by the Office for National Statistics (ONS) released on Wednesday showed the number of Scottish disadvantaged students at universities had increased every year since 2001-02.
Widening access
Hesa's figures take in to account all entrants, not just those from Scotland.
These figures suggested that the proportion of those from the most disadvantaged backgrounds at Scottish institutions was 1.6 % behind the level it was seven years ago, when Hesa began collecting information.
The data also indicated that state school pupils took up less than 87% of places - 2% below the level for the UK as a whole and well behind the level in Wales and Northern Ireland.
Alastair Sim, director of Universities Scotland, said drop-out rates at Scottish universities were improving (compared to 10.8% in 2002-03).
He said: "Retention rates at university are at a seven-year high following year-on-year progress in this area; the statistics show that now only 9.3% of first degree students do not progress on to the second year of university.
"Whilst this progress should be recognised, universities are keen to build on it and further reduce the rate of non-continuation."
Mr Sim added: "Widening access to people from non-traditional backgrounds continues to be a priority for Scotland's universities.
"However it has to continue to be an issue on which schools, colleges and universities work together as the main barriers of aspiration and attitude start many years before entry to university."
Referring to the ONS figures based on Scottish entrants, a spokesman for the first minister, said: "Under-representation of students from deprived backgrounds is now at an all-time low and has fallen every year since 2001-02.
"The abolition of the backdoor tuition fee and the restoration of free education has played a key role in driving that under-representation down and that's why we will not introduce tuition fees in Scotland either upfront or backdoor."
'Greater support'
Scottish Conservative education spokesperson, Liz Smith, said: "These figures are worrying for Scotland, but they disprove the claim that a financial contribution to higher education forces a greater drop-out rate - other parts of the UK have fees and their continuation rate is greater.
"No party in Scotland wants upfront tuition fees and we strongly believe that we need more bursary support for students from the poorest backgrounds, to give them greater support whilst they are studying."
Scottish Labour's Ken Macintosh said: "These figures show clearly that for the first time that under the SNP, Scotland now has the highest drop-out rate of any part of the UK.
"It is deeply concerning that almost one in 10 Scottish students are now dropping out of university."
A Scottish Liberal Democrat spokesman said: "These figures are of real concern. Students are dropping out because they have insufficient student support.
"Liberal Democrats secured increased bursaries in the recent Scottish budget and we want to see a student-led review of student support arrangements to get these drop out rates down."