David Livingstone letter reveals explorer ate elephant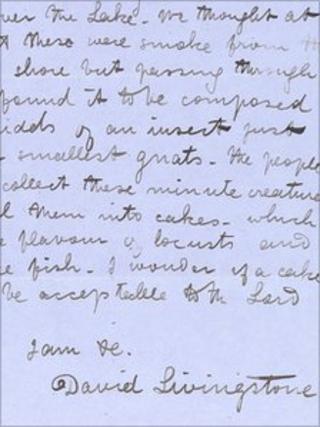 A letter which describes how David Livingstone killed and ate an elephant during a African expedition has sold for £28,800 at auction.
The Scots-born explorer wrote the 12-page missive to British Prime Minister Lord Palmerston in November 1861.
It tells how his party on the famous Zambezi expedition of 1858-1864 killed an elephant for food and then saw the rest of the herd apparently mourning.
The letter fetched more than treble its estimated price at Bonhams in London.
In it, Livingstone reveals a series of incidents, including being robbed by "professional" thieves who struck just before dawn.
He said the local people appeared to be afraid to kill elephants for the ivory, as the animals were "not disturbed by the presence of man".
"When we killed one for food the rest of the herd stood a mile off for two days," he wrote.
"Elsewhere they would not have stood within 30 or 40 miles."
'Poisoned arrows'
Livingstone's letter describes in detail the trip of August to November 1861.
It gives an account of an encounter with a party of Zulus, noting "evidence of their vengeance on the people of the country were abundant...they were as much afraid of me as our men were of them."
He told how the expedition came under attack from Ajawa people.
"We were at once surrounded and showers of poisoned arrows shot at us," he wrote.
"We were obliged to act in self defence and drive them off."
Livingstone also reveals how he sampled an unusual native dish, made of insects "like our smallest gnats".
He said: "The people actually collect these minute creatures and boil them into cakes, which have the flavour of locusts and taste like fish."
The letter was expected to sell for between £7,000 to £9,000.
A Bonhams spokesman said it was not surprising it had been "eagerly sought after".
"The letter is full of fascinating insights about Livingstone and his famous expedition - not least that he and his party ate elephant," he added.