SSTA teachers' union rejects latest offer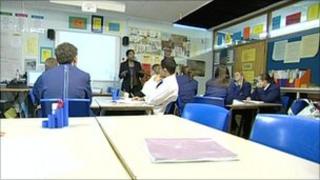 The leaders of the Scottish Secondary Teachers' Association are calling on members to reject proposed changes to pay and conditions.
Last week councils scaled down budget cuts from £60m to £45m after teachers rejected the original deal.
But the SSTA union maintains that the pay cut for short-term cover staff is still too high and the guarantee on teacher numbers is meaningless.
The larger EIS union has recommended its members accept the new offer.
It said it was the "best available" in a tough economic climate.
Initial talks between the unions and Cosla, which represents local authorities, came to an end last month.
The planned changes included a two-year pay freeze but it was other proposals which caused the talks to break down.
'Highly critical'
The unions objected to a cut in sick pay, changes to the supply teachers' conditions and lower pay for those who stayed on promoted salaries when their posts were abolished 10 years ago.
They were also looking for guarantees on maintaining teachers numbers.
In a preliminary vote, 98% of EIS members who had voted and 95% of SSTA members rejected the package.
SSTA general secretary Ann Ballinger said the union was "highly critical" of some aspects of the latest proposals.
Ms Ballinger said the proposed reduction in the rates paid to supply staff amounted to a 45% reduction in current earnings.
She added that the "guarantees" on teacher numbers were "meaningless".
"The penalty to be applied if Cosla members do not employ sufficient teachers gives no guarantee at all," she said.
Ms Ballinger added: "Teachers' conditions of service have a huge impact on teacher morale.
"The deterioration in conditions and salaries proposed by Cosla is certain to contribute to a reduced provision for Scotland's young people.
"The link between teachers' conditions and the quality of education is clear to all but Cosla and the Scottish government."
Pat Watters, president of Cosla, said that the proposals for supply teachers were aimed at those who come back into the profession after retiring, who would be paid at the basic grade level, rather than the grade at which they retired.
He said: "If it was someone just out of university they come in on the basic pay grade anyway. The people it has an impact on are the people who have retired and are coming back to do supply work."
Commenting on the pay and conditions offer as a whole he said: "Under the financial circumstances and what is happening to other people within local authorities we think it is a reasonable offer.
"It's not having a go at teachers, it's looking at some of the anomalies that there are."
The ballot of SSTA members will take place during April.
The SSTA is Scotland's second largest teacher union representing 8,500 members.