Malcolm Macaskill, Glasgow Tory candidate, quits race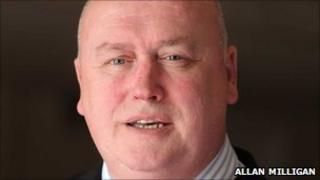 The top Tory candidate on the Glasgow regional list for the Scottish Parliament election has stood down.
The Scottish Conservatives said Malcolm Macaskill, 51, decided not to stand after discussions with its candidates' board.
The party would not give further details, saying it would "respect" his request for confidentiality.
Mr Macaskill has been replaced at the top of the list by Ruth Davidson.
Ms Davidson, a former BBC Scotland reporter, stood for the party at the Glasgow North East by-election in 2009.
Mr Macaskill, who stood for the Tories in Rutherglen and Hamilton West at last year's UK general election, has also removed himself as a candidate for Glasgow Anniesland at the Holyrood elections.
Andrew Fulton, Scottish Conservative chairman, said: "This change arose following discussions between the candidate and the party's candidates board.
"As always in internal issues, such conversations are private and we will respect that confidentiality. I would, however, like to thank Malcolm for his service to the party.
"This difficult decision has been taken in the best interests of the party and we are lucky to have such an able candidate as Ruth Davidson to take over the top spot on our Glasgow regional list."